Stocks across market capitalisation have tumbled under the pressure of high volatility and uncertainty that's gripped the equity market due to the pandemic. Consequently, the midcap index plunged by around 30% in March, relatively higher than the ~23% decline seen in the large cap index, when the virus outbreak was declared as a pandemic.
Interestingly, in the past few weeks midcap stocks have risen considerably from its lows of March and have even surpassed the recovery in large caps. The Nifty Midcap 100 index rose by 26.4% in the last three months, while the rise in large cap index – Nifty 50 was lower at 22.9%. As a result, mid cap funds fared better than large caps funds.
[Read: Do You Own Equity Mutual Funds That Have Underperformed Their Benchmark? Read This!]
This comes as a surprise because during such uncertainties large caps are expected to perform better than their midcap and smallcap-sized peers.
The general assumption is that large caps are better poised to absorb economic downturns because of their reliable brand equity, competitive advantage, quality management, strong balance sheet, and sustainable business models and are therefore expected to perform well even during bearish phases.
Mid-caps on the other hand, due to their smaller scale of operation, lower customer outreach and limited access to various resources, are at higher risk during gloomy environment.
Table: Mid caps outperformed large caps in the past week
Benchmark index
1 week
1 month
3 months
YTD
NIFTY 50
-0.27
4.23
22.86
-7.42
Nifty Midcap 100
1.75
9.03
26.41
-3.54
Category average – Large cap funds
-0.08
5.34
19.17
-7.14
Category average – Mid cap funds
0.96
8.04
22.38
1.38
Data as on August 14, 2020
(Source: ACE MF)
Heavy exposure to banking and finance stocks could have contributed to the underperformance of large-cap funds. In addition, the stress on cash flows in various businesses due to the pandemic can lead to pile-up bad loans in the financial system. Many banks have already accounted for increased provision in the wake of this, which would reflect in their quarterly numbers. Thus, many banking and finance stocks have been under pressure and may continue to do so in the near term.
Further, the valuations in large caps have soared to pre-COVID levels, which makes it less attractive from the near term growth potential perspective. This led to profit booking in index heavyweights such as Reliance, HDFC Bank, HDFC Ltd, etc. and capped gains in the segment.
Graph 1: Valuation in large caps soared to pre-COVID levels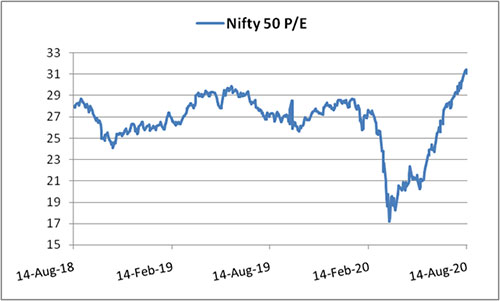 Data as on August 14, 2020
(Source: nseindia.com)
Midcap funds have comparatively lower exposure to financial stocks. Pharma/healthcare, Retail, Chemicals are some of the sectors where these funds have higher allocation. These sectors have emerged as winners amid the crisis and midcap funds benefitted immensely as a result.
[Read: Should You Add FMCG And Pharma Funds to Your Portfolio in Times Of COVID-19?]
Midcap stocks have not seen a sustainable rally since 2018. First, SEBI's categorisation norms for mutual funds made smaller caps less attractive for investors. Second, as the fortunes of mid caps are closely tied to economic growth, the prolonged slowdown in the economy has impacted the growth opportunities. Besides, difficulty in raising credit due to the liquidity crisis in NBFC sector amplified the pathos.
Now with the pandemic-induced crash, the worst seems to be over for many stocks in the mid cap space. The rally in the past week, therefore, can be seen as a sign of bounce back. The breakout of Nifty Midcap 100 from its 200 day moving average (DMA) is a positive development signaling strength in the rally.
Graph 2: Nifty Midcap 100 index's breakout from its 200 DMA

Data as on August 14, 2020
(Source: equitymaster.com)
Fundamentally sound companies with a well-built management team in the mid cap space may be able to absorb the crisis shock well and may even emerge stronger due to gain in market share. Mid cap funds can benefit from investment opportunity in such quality mid cap stocks where price correction has been more than value correction.
So if you can bear short-term volatility in performance and have an investment horizon of at least 5 years, this is an apt time to add mid cap funds to your portfolio. But keep in mind to not go overboard in the segment and stick to your personalized asset allocation plan.
While there are opportunities for mid cap funds to pick quality stocks at a reasonable valuation, there is no guarantee that the segment will continue to outperform the large cap category. Uncertainty over economic growth and geopolitical risks may heighten volatility in the near term; therefore, some stocks may take longer to bounce back.
Meanwhile, large cap funds may be able to spot a new set of winners which could make the segment attractive again. Risk reward may thus keep shifting in favour of one category to other over a period of time.
Therefore, to ensure that your investment can efficiently tide over the market uncertainty and volatility, invest in a strategic portfolio of mutual fund based on the 'Core & Satellite' approach to investing.
The 'Core' holding should comprise around 65-70% of your equity mutual fund portfolio and consist of large-cap fund, multi-cap fund, and a value style fund. Whereas, the 'Satellite' holdings of the portfolio can be around 30-35% comprising of a mid-cap fund, a large & mid-cap fund, and an aggressive hybrid fund.
Additionally, to hedge your portfolio from adverse conditions such as the one we are witnessing now, allocate around 10% of your investment portfolio in gold, preferably through a Gold ETF or a Gold savings fund.
The 'Core & Satellite' approach aids in diversification across categories and investment styles, thereby reducing the risk to your portfolio. It can provide a cushioning during the downside in a bear phase and outperform during a bull phase. If your portfolio is strategically placed, there will be no need for constant churning of the portfolio and you will be well placed to tide over the market volatility.
This article first appeared on PersonalFN here