Mid-cap Funds have generated significant gains in the last couple of years. A majority of schemes in the category have outpaced their Large-cap peers by a significant margin during this period.
As you may know, Mid-cap Funds have higher upside potential and the ability to create significant wealth for their investors. These funds tend to outperform Large-cap Funds during bull market phases. However, Mid-cap Funds are not as resilient during bear phases and may plunge lower than Large-cap Funds. Therefore, it is important to select Mid-cap Funds that can stand strong even during uncertain and volatile market conditions.
Invesco India Mid Cap Fund is one such fund that has stood strong besides its large-sized peers in the mid-cap category and performed consistently well across market conditions.
Graph 1: Growth of Rs 10,000 if invested in Invesco India Mid Cap Fund 5 years ago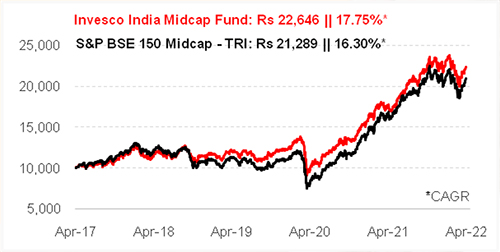 Past performance is not an indicator of future returns
Data as on April 06, 2022
(Source: ACE MF)  
Launched in April 2007, Invesco India Midcap Fund is a growth-oriented midcap-biased fund that focuses on investing in stocks of high-quality mid-sized companies. Despite having a small corpus size of Rs 2,262crore, the fund has recorded healthy growth in the last few years. Invesco India Mid Cap Fund outperformed the benchmark S&P BSE 150 MidCap – TRI index and many of its peers during the 2018 midcap crash as well as the recent 2020 market crash. This signifies its ability to perform well under pressure and reflects the potential it carries to deliver superior returns for its investors in the long run. Meanwhile, it has managed to generate reasonable alpha during the bull market phases in the past. By generating a compounded annualised return of around 17.8% over the past 5 years, Invesco India Mid Cap Fund has outpaced its benchmark S&P BSE 150 MidCap – TRI index by a CAGR of around 1.5 percentage points. An investment of Rs 10,000 in the fund 5 years back would now be valued at Rs 22,646 compared to a valuation of Rs 21,289 for a simultaneous investment in the benchmark. The fund is benchmark agnostic, and hence its performance may deviate significantly from the index.
Table: Invesco India Mid Cap Fund's performance vis-á-vis category peers
Returns are point to point and in %, calculated using the Direct Plan-Growth option. Those depicted over 1-Yr are compounded annualised.
Data as on April 06, 2022
(Source: ACE MF)
*Please note, this table only represents the best performing funds based solely on past returns and is NOT a recommendation. Mutual Fund investments are subject to market risks. Read all scheme-related documents carefully. Past performance is not an indicator for future returns. The percentage returns shown are only for indicative purposes.
Invesco India Mid Cap Fund holds a decent long-term performance record. In the last 1-year, 2-year, and 3-year period IIMF has outpaced several prominent peers in the Mid-cap Funds category by a noticeable margin. Over the longer 5-year to 7-year period, Invesco India Mid Cap Fund stands among the above-average performers in the mid-cap fund category and has shown reasonable growth when compared to the benchmark.
With a standard deviation of 21.92%, Invesco India Mid Cap Fund is prone to much lower volatility compared to the category average and the benchmark index. The fund's reasonable performance in the past few years has helped the fund rank higher in terms of risk-adjusted returns. It's Sharpe Ratio of 0.23 is ahead of the benchmark and the category average and indicates its ability to generate a decent premium for the level of risk taken.
Investment strategy of Invesco India Mid Cap Fund
Classified under Mid Cap Funds, Invesco India Mid Cap Fund is mandated to invest at least 65% of its assets in equity & equity-related instruments of mid-cap companies. Invesco India Mid Cap Fund aims to invest in high growth-oriented quality stocks of mid-sized companies. It usually holds 65% to 75% of its assets in mid-caps, with another 5% to 20% in small caps and 10% to 20% in large caps. The fund follows a process-based investment strategy and strictly adheres to its mandate and investment philosophy.
Invesco India Mid Cap Fund follows the bottom-up and top-down approach to stock picking with no style bias. While picking stocks, the fund managers look for stocks of companies with high-growth potential. From the large investment universe of midcap stocks, the fund aims to hold a fairly diversified portfolio of around 40 to 50 stocks. Invesco India Mid Cap Fund focuses on companies that have scalable business models, attractive return ratios, strong cash flows and healthy balance sheet position, credible management, among other factors. Since the fund managers constantly hunt for high-growth stocks available at reasonable valuations and look at timely entry and exit, moderate churning in the fund's portfolio cannot be ruled out.
Invesco India Mutual Fund follows a proprietary investment framework, used since the inception of the organization and uses a stock categorization framework to break / bucket stocks into growth and value style of investment. The fund stays fully invested and takes no cash calls.
Graph 2: Top portfolio holdings in Invesco India Mid Cap Fund
Holding in (%) as of February 28, 2022
(Source: ACE MF)
Invesco India Mid Cap Fund holds a well-diversified portfolio of stocks spread across sectors. As of February 28, 2022, the fund held 50 stocks in its portfolio, with the top 10 stocks together constituting around 30.4% of its assets. Notably, the fund has limited exposure in each stock to less than 5%. The top holdings in the portfolio include popular mid-cap names like Persistent Systems, Voltas, Sundram Fasteners, Cholamandalam Investment & Finance Company, and Minda Industries, among others.
Names like L&T Technology Services, Mphasis, Persistent Systems, Minda Industries, Bharat Electronics, KEI Industries, Gland Pharma, and JB Chemicals & Pharmaceuticals contributed the most to the fund's performance in the last one year. In the last one year, the fund's portfolio turnover has ranged between 75% to 95% signifying moderate churning of the portfolio.
Invesco India Mid Cap Fund's portfolio is currently diversified across a host of cyclical, sensitive, and defensive sectors. Banking & Finance stocks form its top holding with a combined allocation of around 17.3%, closely followed by Auto Ancillaries and Engineering. Infotech, Consumer Durables, Pharma, Retail, Chemicals, Metals, Power, and Construction are among the other core sectors with an allocation in the range of 3%-8% in each. The top 10 sectors together account for around 74.4% of its assets.
Suitability
Belonging to a fund house driven by strong investment systems and processes, Invesco India Mid Cap Fund stood strong during tough market conditions and managed to limit the downside risk for its investors. Moreover, it has also done well during market recoveries. The focus on fundamentally sound quality names in the mid-cap domain and astute stock picking has helped the fund to reward its investors with reasonable risk-adjusted returns.
With a small corpus size of around Rs 2,262 crore and exposure to highly liquid stocks, Invesco India Mid Cap Fund has the advantage of a quick liquidation of the portfolio in case of extreme conditions. The fund managers have done well to turnaround the fortune of the fund and achieve a spot among the list of above-average performers in the mid-cap fund category.
The aggressive investment mandate along with higher allocation to mid-caps and small caps makes Invesco India Mid Cap Fund suitable only for investors having a higher risk appetite and an investment horizon of at least 5 to 7 years.
This article first appeared on PersonalFN here