India is in the midst of a secular development phase, where various emerging companies are showcasing their potential for growth. In addition to an established track record, these companies are flexible and have evolving business models that carry moderate risk. As a result, investors may consider taking advantage of the growth phase of these emerging companies in the mid-cap segment.
However, the Indian equity market has seen high volatility in 2022 on the back of the Omicron wave, Union Budget, US Fed comments on increasing interest rates, tensions between Russia and Ukraine, and other domestic and global factors. These factors may influence the market performance and affect the growth of mid-sized companies.
If you are looking to diversify your investment portfolio by investing in Midcaps, it is sensible to invest in Midcap index funds that follow a passive approach and track the mid-cap benchmark to provide parallel returns. They are less risky than vanilla Mid-cap funds and generate similar returns.
Investors seeking long-term growth opportunities in the mid-cap segment, along with inflation-beating returns over time, may consider investing in the Nifty Midcap 50 index. This index covers the top 50 liquid stocks from the mid-cap market segment and is well-diversified across several sectors.
Axis Mutual Fund has launched Axis Nifty Midcap 50 Index Fund. It is an open-ended Index Fund tracking the NIFTY Midcap 50 Index.
On the launch of this fund, Mr Chandresh Nigam, MD & CEO at Axis AMC, said, "In the broader market, Midcaps have consistently outperformed, making them ideal for long-term wealth creation. Along with an attractive entry point for long-term investors, they also offer a favourable risk-reward quotient. The introduction of the Axis NIFTY Midcap 50 Index Fund aligns with our belief of offering quality products to investors that suits their risk appetite. We believe it will be a notable addition to our portfolio of passive offerings."
Table 1: Details of Axis Nifty Midcap 50 Index Fund
Type
An Open-Ended Index Fund tracking the NIFTY MIDCAP 50 Index
Category
Index Fund
Investment Objective
To provide returns before expenses that closely correspond to the total returns of the NIFTY MIDCAP 50 subject to tracking errors. However, there can be no assurance that the investment objective of the Scheme will be achieved.
Min. Investment
Rs 5,000/- and in multiples of Re 1 thereafter. Additional purchase Rs 1,000/- and in multiples of Re 1 thereafter.
Face Value
Rs 10/- per unit
Plans
Options

Growth
Income Distribution cum Capital Withdrawal (IDCW)

Entry Load
Not Applicable
Exit Load
0.25% if redeemed / switched out within 7 days from the date of allotment/ Investment.
Fund Manager
Mr Jinesh Gopani
Benchmark Index
Nifty Midcap 50 Index TRI
Issue Opens:
March 10, 2022
Issue Closes:
March 21, 2022
(Source: Scheme Information Document)
The investment strategy for Axis Nifty Midcap 50 Index Fund will be as follows:
Axis Nifty Midcap 50 Index Fund would invest in stocks comprising the underlying index and shall endeavour to track the benchmark index. The scheme will follow a rule-based passive investing strategy and invest in 50 liquid midcap stocks giving preference for stocks where F&O contracts are traded on NSE.
Events like the constituent stocks becoming illiquid in the cash market, the exchange changing the constituents, a large dividend going ex but lag in its receipts, etc. tend to increase the tracking error. In such events, it may be more prudent for the scheme to take exposure through derivatives of the index itself or its constituent stocks in order to minimize the long-term tracking error.
The scheme may also invest in debt and money market instruments in compliance with Regulations to meet liquidity and expense requirements. The Scheme endeavours to invest in stocks forming part of the underlying in the same ratio as per the index to the extent possible and to that extent follows a passive investment strategy, except to the extent of meeting liquidity and expense requirements.
Under normal circumstances, the Asset Allocation will be as under:
Table 2: Asset Allocation for Axis Nifty Midcap 50 Index Fund
Instruments
Indicative Allocation (% of net assets)
Risk Profile
Minimum
Maximum
High/Medium/Low
Securities covered by Nifty Midcap 50 Index*
95
100
High
Debt & Money Market Instruments
0
5
Low to Medium
*Investment in Derivatives instruments shall be to the extent of 15% of the Net Assets as permitted by the Regulations. Such exposure to equity derivatives of constituents or index derivatives of the underlying Index would be taken for short duration when securities of the Index are unavailable, insufficient, for rebalancing at the time of change in the constituents of Index or in case of corporate actions. In case of deviation of the above limit, the fund manager shall endeavour to rebalance the portfolio within 7 business days or follow processes specified in the para below on rebalancing.
(Source: Scheme Information Document)  
About the Benchmark
The NIFTY Midcap 50 Index captures the movement of the midcap segment of the market. NIFTY Midcap 50 includes top 50 companies based on full market capitalisation from the NIFTY Midcap 150 index and on which derivative contracts are available on National Stock Exchange (NSE). If 50 midcap stocks do not have derivatives contracts available on them, it could have less than 50 stocks in the index.
The NIFTY Midcap 50 Index is computed using the free-float market capitalization method. The index level reflects the total free-float market value of all the stocks in the index relative to a particular base market capitalization value.
Here's the list of top constituents by weightage and sector representation under the NIFTY Midcap 50 index: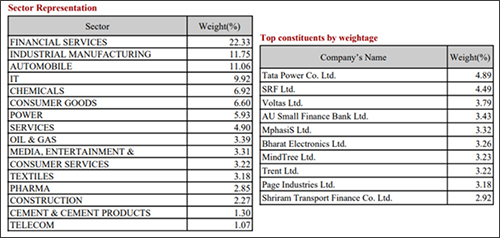 (Source: NIFTY Midcap 50 Index Factsheet as on February 28, 2022)  
Note that the index review is undertaken semi-annually based on data for six months ending January and July and made effective from the last trading day of March and September.
Who will manage Axis Nifty Midcap 50 Index Fund?
The designated fund manager for this scheme is Mr Jinesh Gopani, and he has 20 years of experience in the Financial services industry. He is a B. Com graduate and holds a Master of Management Studies degree from (Bharati Vidyapeeth Institute of Management Studies and Research, Mumbai). Before joining Axis AMC, he was associated with Birla Sun Life Asset Management Company Ltd. as Portfolio Manager; with Voyager India Capital Pvt. Ltd. as Research Analyst and Portfolio Manager; Emkay Share & Stock Brokers Ltd. as Research Analyst; and Net worth Stock Broking Ltd. as Research Analyst.
At Axis AMC, Mr Gopani currently manages Axis Focused 25 Fund (along with Mr Hitesh Das), Axis Long Term Equity Fund, Axis Growth Opportunities Fund (along with Hitesh Das – for foreign securities), Axis Retirement Savings Fund including Aggressive Plan, Dynamic Plan and Conservative Plan (along with Mr R. Sivakumar), Axis ESG Equity Fund (along with Mr Hitesh Das), Axis Value Fund [along with Mr Deepak Agrawal and Mr Hitesh Das (for foreign securities)], Axis Smallcap 50 Index Fund and Axis Nifty Next 50 Index Fund.
Fund Outlook – Axis Nifty Midcap 50 Index Fund
Axis Nifty Midcap 50 Index Fund aims to mirror the performance of the Nifty Midcap 50 Index, which captures the movement of the mid-cap segment of the market. The scheme endeavours to invest in securities in similar proportion as the underlying index to generate parallel returns, subject to tracking errors.
The scheme endeavours to replicate the underlying index that represents the top 50 Mid-cap stocks from the NIFTY Midcap 150 index based on defined criteria. Midcaps are considered future large caps and offer higher potential for growth while being prone to significantly higher risk.
The scheme offers investors a diversified portfolio that focuses on sustainability for picking stocks and provides access to top 50 midcaps by market cap in a single fund. The fund manager will mirror the index, which identifies and invests with an aim to capture the growth phase of emerging companies. The fortune of this scheme will depend on the performance of the underlying index.
However, investment in Mid-cap stocks is considered a high-risk, high-return investment proposition. They may be prone to higher market volatility in the near term, as the looming threat of the Omicron variant, RBI's stance of monetary policy normalisation amidst the inflationary pressures, and the recent geopolitical tensions between Russia-Ukraine with a surge in crude oil prices may pose a risk to the economic growth and would have an adverse impact on mid-sized companies. This may weigh down the NIFTY Midcap 50 Index and its top constituents.
After the swift rally seen in the last 18 months, the margin of safety in mid and small caps appears to be narrow, and the direction of the equity markets from the current elevated levels is uncertain. These factors, among many others, could have a bearing on the scheme's performance, and the portfolio may face intensified volatility in the near term.
Thus, Axis Nifty Midcap 50 Index Fund is suitable for investors with a long investment horizon of at least 5-7 years and a high-risk appetite to sustain the market volatility; however, you should ensure that your investment objective is aligned with the fund.
This article first appeared on PersonalFN here