The Information Technology industry has played a significant role in the Indian economy and has gained traction ever since the pandemic. Indian IT sector is one of the leading outsourcing destinations across the globe, the adoption of new-age technology and fintech has led to a revolution.
The pandemic circumstances coupled with increasing policy support have positively impacted the IT sector. It shifted basic activities such as shopping, work, education, finance, and leisure to digital mode. India is home to many tech-based UNICORN start-ups and several companies who are the market leaders in IT sector.
Many investors are flocking to invest in IT schemes because of the astounding returns given by these schemes in the recent past. Investors are willing to be a part of this technology revolution by investing in the IT sector to gain superior risk-adjusted returns.
Navi Mutual Fund backed by Mr Sachin Bansal (Flipkart co-founder), has launched Navi Nifty IT Index Fund. It is an open-ended scheme replicating /tracking the Nifty IT Index. A passively managed Index fund that tracks the IT sector can be a good option for investors looking to gain decent returns and benefit from the growth of emerging tech-based companies.
Table 1: Details of Navi Nifty IT Index Fund
Type
An open-ended scheme replicating /tracking Nifty IT Index
Category
Index Fund
Investment Objective
The investment objective of the scheme is to achieve return equivalent to Nifty IT Index by investing in stocks of companies comprising Nifty IT Index, subject to tracking error. However, there is no assurance or guarantee that the investment objective of the Scheme will be achieved. The Scheme does not assure or guarantee any returns.
Min. Investment
Rs 500/- and in multiples of Re 1 thereafter. Additional Rs 100/- and in multiples of Re 1 thereafter
Face Value
Rs 10/- per unit
Plans
Options
Entry Load
Not Applicable
Exit Load
Nil
Fund Manager
Mr Pranav Vasa
Benchmark Index
Nifty IT TRI
Issue Opens:
March 03, 2022
Issue Closes:
March 14, 2022
(Source: Scheme Information Document)
The investment strategy for Navi Nifty IT Index Fund will be as follows:
The investment objective of Navi Nifty IT Index Fund is to achieve return equivalent to Nifty IT Index by investing in stocks of companies comprising the Nifty IT Index, subject to tracking error. The scheme endeavours to invest in stocks in proportion to the weightages of these stocks in the Nifty IT Index.
In general, the fund will invest a significant part of its corpus in equities; whereas the surplus amount of the fund, not exceeding 5%, shall be invested in Cash/Tri-Party Repo, Repo in corporate debt securities & Money Market instruments.
Navi Nifty IT Index Fund's performance may not be commensurate with the performance of the respective benchmark of the Schemes on any given day or over any given period. Such variations are commonly referred to as tracking errors. The Scheme intends to maintain a low tracking error by actively managing the portfolio in line with the index. However, there is no assurance that all such buying and selling activities would necessarily result in benefit for the fund.
A small portion of the net assets will be held as cash or will be invested in debt and money market instruments permitted by SEBI/RBI, including TREPS or in alternative investment for the TREPS as may be provided by the RBI, to meet the liquidity requirements under the scheme.
Under normal circumstances, the Asset Allocation will be as under:
Table 2: Asset Allocation for Navi Nifty IT Index Fund
Instruments
Indicative Allocation (% of net assets)
Risk Profile
Minimum
Maximum
High/Medium/Low
Equities and equity-related securities covered by the Nifty IT Index
95
100
Medium to High
Debt & Money Market Instruments
0
5
Low to Medium
(Source: Scheme Information Document)
About the benchmark
The NIFTY IT Index comprises of 10 companies listed on the National Stock Exchange (NSE) and captures the performance of the Indian IT companies.
The NIFTY IT index is computed using free float market capitalization method with a base date of Jan 1, 1996 indexed to a base value of 1,000 wherein the level of the index reflects total free-float market value of all the stocks in the index relative to a particular base market capitalization value.
Here is the list of top constituents by weightage under the index as of February 28, 2022: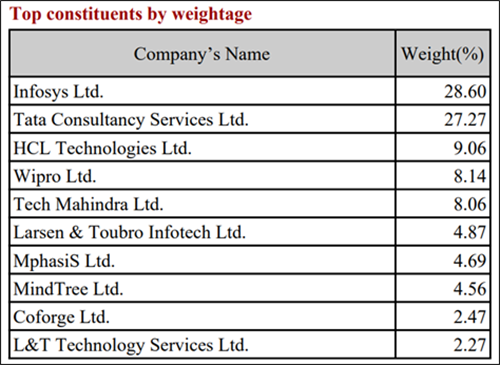 (Source: NSE Nifty IT Index)  
Note that the index review is undertaken semi-annually based on data for six months.
Who will manage Navi Nifty IT Index Fund?
The designated fund manager for this scheme will be Mr Pranav Vasa. He holds degrees in PGDM Finance and B.E. (Computer) and has more than 6 years of experience. In his past employment, Mr Vasa has worked with Birla Sun Life Insurance, and he has been associated with Navi Mutual Fund since 2016.
At Navi Mutual Fund, Mr. Vasa currently manages Navi Nifty 50 Index Fund , Navi Nifty Bank Index Fund, and Navi Nifty Next 50 Index Fund.
Fund Outlook – Navi Nifty IT Index Fund
Navi Nifty IT Index Fund aims to provide returns that closely correspond to the total returns as represented by the NIFTY IT Total Return Index, subject to tracking errors. The fortune of this scheme will be closely linked to how the Nifty IT Index performs.
The scheme offers investors an access to invest in emerging IT companies with high growth potential and booming the Indian IT sector. The scheme aims to invest in the fastest-growing IT sector and investors have the opportunity to benefit from emerging technologies such as, Cloud services, Fintech, E-commerce, Artificial Intelligence, Virtual Reality, and Blockchain technology.
Being an Index fund, Navi Nifty IT Index Fund follows a passive approach and is available at lower costs and reduces the risk of active stock selection risk. This scheme is a sector-oriented Index Fund that will aim to invest only in the Information Technology sector, which creates a concentration risk. If the sector goes out of favour, the funds performance will be negatively affected.
In addition, the threat of the Omicron variant, RBI's stance of monetary policy normalization amidst the inflationary pressures, and the recent geopolitical tensions between Russia-Ukraine with a surge in crude oil prices may pose a risk to the economic growth and would have an adverse impact even on the IT sector. This may weigh down the NIFTY IT Index and its top constituents. These, among many other factors, may affect the scheme's performance, and the portfolio may face higher volatility in the near term. Hence, this makes Navi Nifty IT Index Fund a risky investment proposition. Notably, sectoral funds are a high-risk, high-return investment proposition.
Thus, Navi Nifty IT Index Fund is suitable only for aggressive investors with high-risk tolerance, who better understand the IT sector and seek to benefit from its growth potential. More importantly, they should have an investment horizon of at least 5-7 years.
This article first appeared on PersonalFN here