Passive investing through low-cost index funds has been an option available for investors for a while now. In the past few years, passive, low-cost funds have made their way into large-cap, small-cap, mid-cap, thematic, and sectoral fund categories. Some of these new passively managed index funds have also attracted strong inflows and are considered a good option for low-cost wealth creation.
If you want to keep your portfolio stable and generate decent returns while betting on large-cap stocks in this volatile market, you should consider investing in the NIFTY 100 Index. It provides access to a basket of India's top 100 large-cap companies on the basis of full market capitalization, across sectors.
Passive investing in the Nifty 100 index is an option for investors looking to build wealth over the long term without exposing their portfolios to excessive risk and volatility. It will be a cost-effective strategy to obtain exposure to the Indian Large Cap universe. HDFC Mutual Fund has launched HDFC Nifty 100 Index Fund; it is an open-ended scheme replicating/tracking the NIFTY 100 Index.
On the launch of this fund, Mr Navneet Munot, MD & CEO at HDFC AMC, said, "Launch of this NFO is a part of our endeavour to expand our product bouquet in HDFC MF Index Solutions and allow customers easy access to India's 100 largest companies. HDFC AMC has been one of the oldest players in index solutions with proven capability."
Table 1: Details of HDFC Nifty 100 Index Fund
Type
An open-ended scheme replicating/tracking NIFTY 100 Index.
Category
Index Fund
Investment Objective
To generate returns that are commensurate (before fees and expenses) with the performance of the NIFTY 100 Index TRI (Underlying Index), subject to tracking error. There is no assurance that the investment objective of the Scheme will be realized.
Min. Investment
Rs 5,000 and in multiples of Re 1/- thereafter. Additional Purchase Rs 1,000/- and in multiples of Re. 1 thereafter.
Face Value
Rs 10/- per unit
SIP/SWP/STP
Available
Plans
Options
Entry Load
Not Applicable
Exit Load
Nil
Fund Manager
Mr. Krishan Kumar Daga
Benchmark Index
NIFTY 100 Total Returns Index (TRI)
Issue Opens
February 11, 2022
Issue Closes
February 18, 2022
(Source: Scheme Information Document)
The investment strategy for HDFC Nifty 100 Index Fund will be as follows:
HDFC Nifty 100 Index Fund will be managed passively with investments in stocks comprising the Nifty 100 Index, subject to tracking error. The Nifty 100 index consists of the 100 largest companies by market capitalization, reflecting overall market conditions. The underlying index can provide diversification across various stocks/sectors.
The investment strategy would revolve around reducing the tracking error to the least possible through regular rebalancing of the portfolio, taking into account the change in weights of stocks in the Index as well as the incremental collections/redemptions in the Scheme. A part of the funds portfolio may be invested in debt and money market instruments to meet the liquidity requirements.
Since the Scheme is an index fund, it will only invest in securities constituting the Underlying Index. However, due to corporate action in companies comprising the index, the Scheme may be allocated/allotted securities that are not part of the index. Such holdings would be rebalanced within 7 Business Days from the date of allotment/listing of such securities.
As part of the Fund Management process, the Scheme may use derivative instruments such as index futures and options or any other derivative instruments that are permissible or may be permissible in the future under applicable regulations. However, trading in derivatives by the Scheme shall be for restricted purposes as permitted by the regulations. Subject to the Regulations and the applicable guidelines, the Scheme may engage in Stock Lending activities. The Scheme may also invest in the debt schemes of Mutual Funds in terms of the prevailing SEBI (MF) Regulations.
Under normal circumstances, the asset allocation will be as under:
Table 2: Asset Allocation for HDFC Nifty 100 Index Fund
Instruments
Indicative Allocation (% of net assets)
Risk Profile
Minimum
Maximum
High/Medium/Low
Securities covered by NIFTY 100 Index#
95
100
High
Debt Securities & Money Market Instruments, units of Debt Schemes of Mutual Funds
0
5
Low to Medium
#Includes shares of HDFC Asset Management Company Limited.
(Source: Scheme Information Document)
About the benchmark
The NIFTY 100 is a diversified index of 100 stocks representing the major sectors of the economy. It represents the top 100 companies based on full market capitalisation from the NIFTY 500 index. This index intends to measure the performance of large market capitalisation companies. The NIFTY 100 index tracks the behaviour of a combined portfolio of two indices, viz. NIFTY 50 and NIFTY Next 50.
NIFTY 100 is computed using the free-float market capitalization method. The index level reflects the total free-float market value of all the stocks in the index relative to a particular base market capitalization value.
Here's the list of top 10 constituents by weightage and sector representation under the index as on January 31, 2022: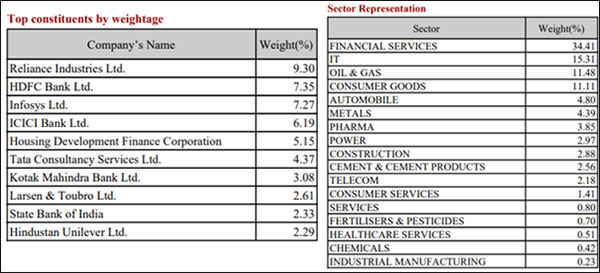 (Source: Nifty 100 Index Factsheet as of January 31, 2022)
Note that the index does a rebalancing on a semi-annual basis in June and December every year.
Who will manage HDFC Nifty 100 Index Fund?
Mr Krishan Kumar Daga is the designated fund manager for this scheme. He is a B.Com graduate and has over 24 years of experience in Fund Management and Research. Prior to joining HDFC AMC, he was associated with Reliance Capital Asset Management Company Ltd. as Fund Manager / Head – ETF, Reliance Capital Ltd. as Vice President, and Deutsche Equities as Vice President.
At HDFC AMC, Mr Daga currently manages HDFC Arbitrage Fund, HDFC Banking ETF, HDFC Equity Savings Fund (Arbitrage Assets), HDFC Gold ETF, HDFC Gold Fund (FOF), HDFC Index Fund – NIFTY 50 Plan, HDFC Index Fund – SENSEX Plan, HDFC Multi-Asset Fund (Gold related instruments and Arbitrage Assets), HDFC NIFTY 50 ETF, HDFC SENSEX ETF, HDFC NIFTY50 Equal Weight Index Fund, HDFC Developed World Indexes Fund of Funds and HDFC NIFTY Next 50 Index Fund.
Fund Outlook – HDFC Nifty 100 Index Fund
HDFC Nifty 100 Index Fund aims to mirror the performance of the Nifty 100 Index. The underlying index represents the 100 largest companies spread across major sectors of the economy. The fortune of this scheme will be closely linked to how the Nifty 100 Index performs.
The underlying index is well-diversified across major sectors. It provides a complete representation of the Indian Large Cap universe, and larger companies have a higher impact on index outcomes. The scheme offers investors exposure to sectors not covered in the Nifty 50 index, such as chemical, industrial, manufacturing, and healthcare services.
HDFC Nifty 100 Index Fund offers a relatively stable equity allocation via a large-cap index that can be beneficial to maintain stability in an investor's portfolio. Investment in larger companies that are leaders in their respective fields and resilient to the economic challenges makes the scheme less volatile. Being an Index fund, it will follow a passive investing approach and reduce the risk of stock selection by the fund manager.
However, that does not take away the high market risk due to the threat of the Omicron variant and the US Federal Reserve's announcement of a reduction in stimulus. In addition, the monetary policy action and stance amidst the inflationary pressures taken by the RBI may pose a risk to economic growth. The margin of safety appears to be narrow, and the clear direction for the equity market from the current elevated levels is unknown. These, among many other factors, may affect the scheme's performance, and the portfolio may face intensified volatility in the near term.
Thus, if you consider investing in HDFC Nifty 100 Index Fund, ensure you hold a high-risk appetite, a long investment horizon to sustain market volatility, and an investment objective that aligns with the fund.
This article first appeared on PersonalFN here