"Investing should be more like watching paint dry or watching grass grow. If you want excitement, take $800 and go to Las Vegas." – Paul Samuelson
The new breed of tech-savvy investors is shunning mutual fund schemes and preferring the direct route to invest in equities. This has been a worrisome trend as the Indian equity markets are scaling new highs on regular basis these days.
Robinhood investors who started their stock market journey during the pandemic i.e. after March 2020 are yet to see a bear market. While it is blissful to see wealth being created, investors appear ignorant about frothy valuations and the potential market reversal.
As an investor, you need to be more cautious when the bellwether index, the S&P BSE Sensex is over 58,000 – making new lifetime highs. In August 2021 alone, Sensex has delivered over an absolute 10% return.
Graph 1: The Indian Equity Markets Up, Up and Away…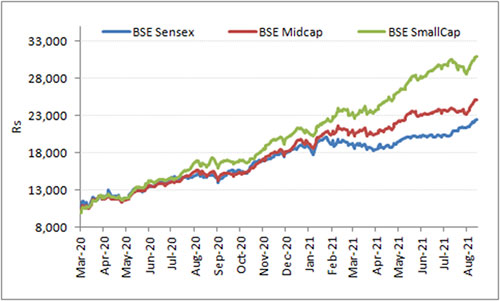 Data as of September 06, 2021
(Source: BSE, PersonalFN Research)
Since the March 2020 lows, the S&P BSE Sensex has posted a handsome +128% absolute return, while the S&P BSE Midcap and S&P BSE Smallcap +157% and +219%, respectively on an absolute basis.
Interestingly, investors who have seen ups and downs of the markets, also are pumping money into the equity market due to the fear of missing out. They seem to be put off by the low interest rates on some traditional fixed-income avenues, and particularly at a time when retail inflation is increasing.
What has moved the Indian equity markets so much?
Well, there are multiple key factors…
Accommodative monetary policy action and stance by central banks

The present market rally is primarily liquidity-driven. Major global central banks such as the Federal Reserve (Fed), European Central Bank (ECB) and Bank of Japan (BoJ), to support economic growth amidst the COVID-19 pandemic, kept interest rates low and followed ultra-dovish or accommodative monetary policies. The liquidity created asset price inflation, which in conjunction with pandemic-led-supply-squeeze, resulted in higher retail inflation.

Sceptics, especially those who have seen many numerous market cycles believe the Federal Reserve will have to reverse its policy stance sooner rather than later. The Federal Reserve thinks the inflation in the real economy is transient and can be ignored as long as it does not interfere with its objective of achieving an average of 2% inflation rate, over time. Also, it aims to maximize employment.

The Federal Reserve chief, Jerome H. Powell recently reiterated the central bank's commitment to "support the economy for as long as is needed to achieve a full recovery."

The Federal Reserve has also signalled that any decision about the timing and pace of reduction in asset purchases won't automatically signal the interest rate reversal. The Federal Reserve wants to articulate a different and substantially more stringent strategy for raising interest rates.

The markets are taking these developments as the continuation of the dovish stance of the Federal Reserve. The global investors seem to have assumed that the Federal Reserve's policy reversal is going to be gradual, translating into money flows for emerging markets such as India.

According to NSDL data, FPIs so far (as of September 7, 2021) have net bought to the tune of Rs 55,271 crore in Indian equities.

The accommodative monetary policy action and the stance followed by the Reserve Bank of India (RBI), too, has enthused FPIs to participate in the Indian equity markets positively. While the six-member Monetary Policy Committee (MPC) now looks more divided on the future course of action (than a few months ago), none of the members are indicating a sharp reversal in the interest rate cycle to tame inflation risk.

Pick up in India's GDP growth

The Indian economy has displayed a "V-shaped" recovery over the last couple of quarters amidst the pandemic. In Q1FY22, India's GDP bounced back sharply posting a 20.1% GDP growth at constant prices (2011-12) largely due to a favourable base effect from last year. The pickup in GDP is largely driven by Gross Fixed Capital Formation (GFCF) and exports.

The government expenditure, however, reported a fall and contributed just 13% to India's GDP in Q1FY22 as against 16.4% in Q1FY21. Similarly, private consumption — which apparently is the key engine of the economy — remained weak at 55.1% of GDP in Q1FY22.

As per RBI's estimates Indian economy is likely to grow at 9.5% in FY22 (22.1% in Q1; 7.3% in Q2; 6.3% in Q3; and 6.1% in Q4:2021-22).

Going forward, higher government expenditure along with pick up in private consumption and investments would be crucial for GDP to register higher readings. So far, the central government and state governments have refrained from frontloading their investments in Q1FY22.

Buzzing IPO markets and improvement in corporate earnings

Several IPOs are lined up. After tasting success in certain IPOs, investors are readily deploying more money for listing gains or for long-term growth. This buzzing IPO market has surely kept the market sentiments animated.

In addition, encouraging corporate earnings has also kindled the rally in equity markets. India's corporate profits-to-GDP has touched a 10-year high of 2.63% from a record low of 1.6% in FY20. The gains in corporate earnings have come on the back of conscious reduction in operation costs and scaling down on capital expenditure amid the pandemic and low base effect due to the lockdown impact. Some firms in industries such as metals, cement, chemicals, and oil refining and marketing companies have gained from higher prices in these commodities due to a global rally.

For the market rally to continue, sustaining the earnings growth with greater consumer confidence and demand will be vital, and not just by cutting costs.

Increase in COVID-19 vaccinations and improvement in consumer confidence

India has made good progress on its inoculation drive of late, particularly after experiencing the second wave. A total of 16.43 crore beneficiaries have received both their doses of the COVID-19 vaccine.

Besides due to relaxation in COVID-19 guidelines, people moving out of their homes, and offices gradually opening up; and some positive sentiments prevail. The RBI's latest consumer confidence survey reveals that people, in general, are positive about the economic situation, employment scenario, and their incomes going forward.

But the fact also is that only 11.5% of India's eligible population has received all required doses prescribed by the vaccination protocol. With the virus mutating and the risk of the looming third wave; a large section of the population could be at risk.
How should you approach equity mutual funds now?
At such a juncture, you need to be careful about the selection of mutual fund schemes as the future looks uncertain due to the risk of a third wave of Covid-19 and intensifying geopolitical tensions.
On 1-year return, you will find mid-cap funds and small-cap funds outperforming other types of mutual fund schemes. But that doesn't mean you should invest only in the top-performing schemes of 2021.
The list of your shortlisted mutual funds should be comprehensive and should include the best mutual fund schemes across categories.
At this juncture, I suggest following a 'Core & Satellite' approach to select the best mutual fund schemes for your investment portfolio. Core & Satellite' is a time-tested investment strategy followed by some of the most successful equity investors in the world.
The term 'Core' applies to the more stable, long-term holdings of the portfolio, while the term 'Satellite' applies to the strategic portion that would help push up the overall returns of the portfolio, across market conditions.
The 'Core' holding should comprise around 65-70% of your equity mutual fund portfolio and consist of a Large-cap Fund, Flexi-cap Fund, and Value Fund/Contra Fund. Whereas, the 'Satellite' holdings of the portfolio can be around 30-35% comprising of Mid-cap Funds, and an Aggressive Hybrid Fund.
By wisely selecting among these the best mutual fund schemes, structuring your portfolio, and then timely reviewing the Core and Satellite portions and the holdings therein, you would be able to strategically boost your portfolio returns at the same time with the required stability.
While you add equity mutual fund schemes to your investment portfolio based on the Core & Satellite strategy, here are a few fundamental rules to follow:
Consider funds that have a strong track record of at least 5 years and have been amongst the top performers in their respective categories.

The schemes should be diversified across investment styles and fund management.

Ensure that each selected scheme abides with its stated objectives, indicated asset allocation, and investment style.

You should not only invest across investment styles (such as growth and value), but also across fund houses.

The mutual fund schemes should be managed by experienced and competent fund managers and belong to fund houses that have well-defined investment systems and processes in place.

Not more than two schemes managed by the same fund manager should be included in the portfolio.

Not more than two schemes from the same fund house shall be included in the portfolio.

Each scheme that is to be included in the portfolio should have seen an outperformance over at least three market cycles.

You should restrict the count of mutual fund schemes in your portfolio to seven.
Considering the present market conditions, I suggest opting for the Systematic Investment Plan (SIP) route while you build the portfolio of best equity mutual fund schemes following the 'Core and Satellite' approach.
Here are the six key benefits of following the 'Core & Satellite' approach:
Facilitate optimal diversification with the best equity mutual fund schemes

Reduces the need to frequently churn your entire portfolio

Reduces the risk to your portfolio

Enables you to benefit from a variety of investment styles and strategies

Creates wealth cushioning the downside

Holds the potential to outperform the market
The Core & Satellite investment strategy may work for you in 2021 and beyond.
Nevertheless, align your investments with your risk appetite, broader investment objective, financial goals, and time horizon to accomplish the envisioned financial goals.
This article first appeared on PersonalFN here