Overnight funds are open-ended debt mutual fund schemes that invest in securities that mature in one day. The category usually invests in Tri-party Repos, Reverse repo, and other debt and money market instruments with one-day maturity. It is a low-risk, low-return bet compared to its peers in other debt mutual funds category.
In the past, many investors have burnt their fingers and suffered losses by investing even in safe categories such as liquid funds. Overnight funds are a relatively safer alternative to park very short-term surplus at the lowest risk.
There is no entry or exit load applicable on transactions in overnight funds. Moreover, the expense ratio of the fund is among the lowest in the debt mutual funds category.
The fund managers of overnight funds invest in overnight securities that mature the next business day. They then utilise the proceeds from the maturity to buy new overnight securities.
Overnight funds can offer instant access facility
In its recent circular, SEBI has allowed asset management companies to extend instant access facility to overnight mutual fund schemes. It generally takes 1-2 working days for the redemption proceeds to be credited in the investor's bank account. Through the instant access facility for overnight funds, investors will be able to get the redemption proceeds in their bank account on the same day as the request application.
This new facility will be applicable with immediate effect. With this move, SEBI aims to further enhance the reach of mutual funds towards retail investors and boost the liquidity for the investors. Earlier this facility was only available to investors in liquid mutual funds.
The instant access facility will be subject to a limit of Rs 50,000 or 90% of the latest value of the investment in the scheme, whichever is lower. For instance, if you have invested Rs 50,000 in an overnight scheme, then you will be able to redeem a maximum of Rs 45,000 (Rs 50,000 * 90%) under the instant access facility. The limit will be applicable per day per scheme per investor.
Instant access facility is only available for the online mode of transaction. Ensure that you select the 'instant redemption option' when you place the redemption request.
The applicability of NAV will depend on the time of the redemption request:
a) If you place a request before the cut-off time of 3:00 p.m., the applicable NAV will be lower of (i) NAV of the previous calendar day, and (ii) NAV of the calendar on which the request was made
b) If you place a request after the cut-off time of 3:00 p.m., the applicable NAV will be lower of (i) NAV of the calendar day on which the request was made, and (ii) NAV of the next calendar day.
To maintain liquidity for the instant access facility, mutual funds/asset management companies will have to maintain adequate balance in the bank account of the scheme to meet redemption requests. They can set aside cash based on historical trends. However, they cannot borrow to meet the redemption requirements under instant access facility.
Do note that it is not mandatory for mutual funds to offer instant access facility. However, they can offer it after obtaining approvals from the board and trustees. Mutual funds have to make appropriate disclosure in the scheme information document about this facility. AMCs must disclose the terms and conditions under which they can suspend the facility. Additionally, they have to keep in place adequate safeguards in the system to implement this facility.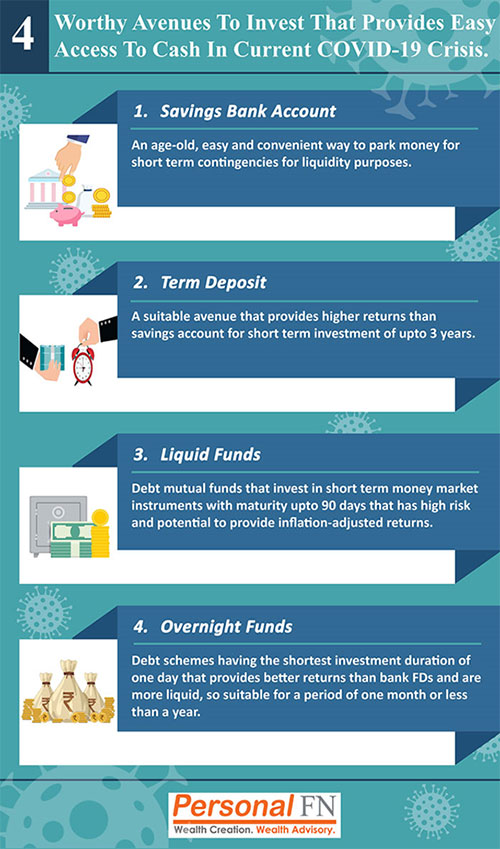 Who should invest in overnight funds?
Since the securities mature in one day, the interest rate risk and credit risk in overnight funds is lowest compared to other debt mutual fund categories. This makes it suitable for risk-averse investors. You can expect overnight funds to provide liquidity whenever the need arises.
The returns on overnight funds are closely linked to interest rate movement. Since overnight funds avoid investing in risky securities, the category offers relatively lower returns. They are similar to bank saving deposits where you can park money for the safety of capital and withdraw it at any time.
Overnight funds are safer compared to liquid funds because liquid funds have more flexibility to invest in securities maturing within 91 days. Liquid funds also carry slightly higher credit risk.
Overnight funds are suitable for investors who want to park their money for a very short period, say seven days. These funds are ideal if you are looking to build a contingency fund, to address very short-term goals, and/or to tactically shift money into an equity fund (via the Systematic Transfer Plan) to offset volatility.
Overnight mutual funds are taxable just like any other debt mutual fund. Short term capital gains, i.e. gains on investment for a period of up to 3 years, are taxable at the tax slab applicable to the investor. On the other hand, long term capital gains, i.e. gains from investment held for a period longer than 3 years is taxable at 20% after indexation.
Some of the best Overnight funds based on our analysis and research at PersonalFN are:
For a longer investment horizon of few months to a year, you can consider investing in Liquid funds and Ultra short duration funds. Select debt funds that invest predominantly in high quality papers issued by the government and quasi-government entities. Remember that when you invest in debt mutual funds, the safety of capital and liquidity should be the primary objective, returns are secondary.
This article first appeared on PersonalFN here