India was at the peak of the second wave of the COVID-19 pandemic in the second week of May 2021. However, as the daily caseload dropped substantially thereafter, the markets gained momentum in June and touched a new high on June 15, 2021.
The rally was further fuelled by Q4FY21 corporate earnings, which have broadly been in line with expectations.
Table 1: Key market stats…
| | | | |
| --- | --- | --- | --- |
| Particulars | S&P BSE SENSEX | S&P BSE Mid-Cap | S&P BSE Small-Cap |
| Year 2020 COVID-19 Pandemic low | 23-Mar-20 | 23-Mar-20 | 23-Mar-20 |
| Index level | 25,981.24 | 9,711.44 | 8,872.83 |
| Price-to-Equity Ratio (in times) | 15.67 | 18.25 | 136.66 |
| | | | |
| All-time high (Dates) | 15-Jun-21 | 15-Jun-21 | 15-Jun-21 |
| All-time high level on closing (in points) | 52,773.05 | 22,907.41 | 25,186.27 |
| | | | |
| Level as of Jan 1, 2021 (in points) | 47,868.98 | 18,164.48 | 18,261.03 |
| Level as of June 21, 2021 (in points) | 52,574.46 | 22,420.06 | 24,854.25 |
| Price-to-Equity Ratio (in times) | 32.35 | 44.37 | 49.93 |
Data as of June 21, 2021
(Source: bseindia.com, PersonalFN Research)
According to the Business Standard Result Tracker, 1,764 companies have reported their Q4FY21 numbers so far. Therein, the revenue growth reported, on an average, has been 19.9% in the quarter gone by. At 393.9%, the net profit growth has been extremely impressive. The profits have not only come due to a low base, but also due to pent-up demand in Q4FY21, which was totally absent during the same period a year ago.
Constantly rising markets (at times very swiftly) have, no doubt, accelerated wealth creation, but now appears to have lowered the margin of safety available to equity investors at this juncture. In other words, unless corporate earnings are maintained and do better quarter-on-quarter, year-on-year; the markets might come under severe pressure.
The risk of several waves of the COVID-19 pandemic is looming. At PersonalFN, we have been talking to fund managers and CIOs on how they have been navigating the COVID-19 pandemic. Many of them are treading cautiously although they are confident of the long-term prospects of the Indian economy. Watch Taher Badshah, Director and CIO Equities at Invesco Mutual Fund speaking to my colleague, Vivek Chaurasia, about the challenges faced and strategy his team followed during the second wave of COVID-19 Pandemic in the video below.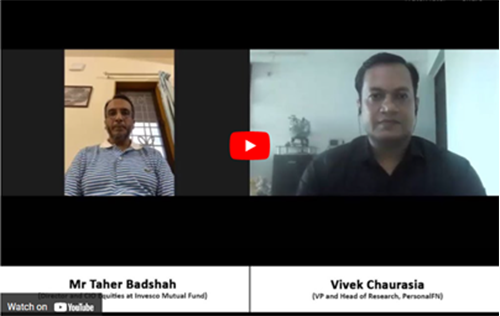 You see, medical experts have been predicting the third wave of COVID-19 around September-October this year. The pace of vaccination will play a crucial role in deciding how we come out of the challenges thrown at us by the pandemic.
Graph: India has a long way to go for full vaccination against COVID-19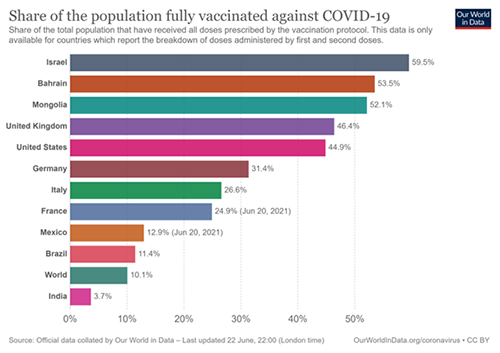 (Source: https://ourworldindata.org/) 
So far, around 3.7% of India's population has received the required doses prescribed by the vaccination protocol, exposing a large section of the population to risk. The Modi-led-NDA government, however, is confident of getting all eligible citizens vaccinated by December 2021.
For the Reserve Bank of India, the CPI Inflation (6.3% in May 2021) slowly drifting out of its comfort zone (due to higher prices of food, fuel & light, clothing & footwear, among other constituents), is posing a problem although it wants to support growth amidst the COVID-19 pandemic. The WPI inflation spiked to 12.94% in May 2021 on account of rising commodity and crude oil prices, besides a low base effect.
On the one hand, while high out-of-pocket expenses, due to the ongoing pandemic, are likely to affect the demand trends; the rising crude oil and input costs may weigh on the corporate profitability in FY22. The rate-sensitive sectors viz. automobile, housing, banking & financial services space, housing, etc. may have to bear the brunt (due to low credit off-take).
That said, if the COVID-19 pandemic wanes by the end of this calendar year, consumer confidence strengthens, demand picks up, and the situation improves remarkably, then the earnings might be better in FY23–perhaps in double-digits–supported by a favourable base effect.
For the markets to move up ultimately, earnings need to justify valuations, otherwise, markets may slip back, particularly when liquidity begins to dry up.
Table 2: Equity Mutual funds have been taking cash calls…
Portfolio data as on May 31, 2021
(Source: ACE MF, PersonalFN Research)
On the above backdrop, currently, certain equity-oriented mutual fund schemes are holding perceptible cash levels. Small-cap funds and Focused Funds, in particular, seem to be holding considerable cash in their portfolios. Schemes from select fund houses have taken aggressive cash calls, barring schemes that concluded NFOs recently.
Mutual fund houses are worried about valuations in the small-cap space. That is perhaps also one of the reasons for quite a few fund houses launching index funds and overseas funds nowadays. Apparently, rising market indices are also creating fewer dividend yield opportunities, thereby forcing dividend yield funds to hold more cash in their portfolio.
Nevertheless, retail investors and some High Net-worth Individuals at present seem to be less worried about expensive valuations, risk of inflation, and a potential slowdown in corporate profitability. They are betting big on the market for wealth creation, perhaps because the returns offered on some of the traditional investment avenues look unappealing.
Despite a strong second wave of COVID-19, equity-oriented funds reported net inflows worth Rs 10,083 in May 2021 as against Rs 3,437 in the previous month reveals the AMFI data. Moreover, 29.56 lakh new SIPs were registered in April and May. In value terms, the AUM of Rs 17,415 crore was collected in the first two months of FY22 through SIPs.
How should investors approach equity-oriented mutual funds at a market high?
Considering the present market conditions, you would be better off realigning your portfolio to ensure that it is in line with your financial goals and investment objectives. Furthermore, avoid holding excess cash speculating on the market direction.
What you require to do is follow a time-tested strategy, known as the Core & Satellite Investment Strategy, pursued by some of the most successful equity investors across the world to build an equity portfolio.
The term 'Core' applies to the more stable, long-term holdings of the portfolio, while the term 'Satellite' applies to the strategic portion that would help push up the overall returns of the portfolio, across market conditions.
By wisely structuring and timely reviewing the Core and Satellite portions and the holdings therein, you would be able to add stability to the portfolio while strategically boosting your portfolio returns at the same time.
The 'Core' holding should comprise around 65-70% of your equity mutual fund portfolio and consist of a Large-cap Fund, Multi-cap Fund, and Value Fund. Whereas, the 'Satellite' holdings of the portfolio can be around 30-35% comprising of a Mid-cap Fund, a Large & Mid-cap Fund, and an Aggressive Hybrid Fund.
While you add equity mutual fund schemes to your investment portfolio based on the Core & Satellite strategy, here are a few fundamental rules to follow:
Consider funds that have a strong track record of at least 5 years and have been amongst the top performers in their respective categories.
The schemes should be diversified across investment styles and fund management.
Ensure that each selected scheme abides with its stated objectives, indicated asset allocation, and investment style.
You should not only invest across investment styles (such as growth and value), but also across fund houses.
The mutual fund schemes should be managed by experienced and competent fund managers and belong to fund houses that have well-defined investment systems and processes in place.
Not more than five schemes managed by the same fund manager should be included in the portfolio.
Not more than two schemes from the same fund house shall be included in the portfolio.
Each scheme that is to be included in the portfolio should have seen an outperformance over at least three market cycles.
You should restrict the count of mutual fund schemes in your portfolio to seven.
Given the uncertainty looming and that the Indian equity market would remain very volatile until normalcy returns, I suggest opting for the Systematic Investment Plan (SIP) route while you build the portfolio of equity-oriented mutual fund schemes following the 'Core and Satellite' approach.
Moreover, do not forget to align your investments with your risk appetite, broader investment objective, financial goals, and time horizon to accomplish the envisioned financial goals.
Given below are the benefits of following the 'Core & Satellite' approach while investing in equity mutual funds:
Facilitate optimal diversification among equity mutual fund schemes
Reduce the need to frequently churn your entire portfolio
Reduce the risk to your portfolio
Enable you to benefit from a variety of investment styles and strategies
Create wealth cushioning the downside
Help you potentially outperform the market
Note, the Core & Satellite investment strategy may work for you in 2021 and beyond.
This article first appeared on PersonalFN here