The second wave of COVID-19 infections is affecting India badly. The daily new cases have crossed over 2 lakh and the situation could get worse, potentially derailing India's economic recovery given the lockdowns and curfew imposed (to contain the spread of the virus) particularly in states that are major contributors to India's GDP. Maharashtra alone accounts for over 43% of total active COVID-19 cases in India, followed by Chhattisgarh, Uttar Pradesh, Karnataka and Kerala.
The international rating agency, Moody's is viewing the situation as "credit negative" for India. Lockdowns in certain states, would impact business & economic activity, consumer sentiments, and amplify the credit risk.
S&P Global Ratings believes the systemic risk for Indian Banks is likely to remain high during the second wave of the COVID-19 pandemic and the high proportion of weak loans. The balance sheet weakness in smaller businesses would contribute to incremental Non-Performing Loans (NPLs), according to the S&P. The rating agency has estimated weak loans in banks at 11-12% of gross loans. Fitch Ratings is also of the view that the second wave of COVID-19 poses a risk for India's "fragile economic recovery" and its banks. A rise in infections and follow-up measures to contain the virus may heighten the risk for Indian banks. Currently, more than 80% of new infections are in the states accounting for 45% of banking sector loans. Moreover, 24% of the outstanding banking loans as of March 31, 2021, belong to Maharashtra. Loans to Micro, Small and Medium Enterprises (MSMEs) and retail loans are likely to witness more stress with stricter lockdown impinged. In such a scenario, private banks with better-earning capacity and that are well-capitalised may withstand the stress on their portfolio better, but state-owned banks could be more vulnerable, according to the Fitch Ratings.
Another independent credit rating agency, ICRA, expects NPAs of Indian banks to climb to 9.6%-9.7% in FY21. Mr Anil Gupta, Sector Head – Financial Sector Ratings, ICRA Ratings observes that the level of loans in the overdue categories has increased after the upliftment of moratorium and the impact on asset quality will be spread over FY2021 and FY2022 as various interventions and relief measures have prevented a large one-time hit on profitability and capital of banks. The existing bad loans with banks are currently Rs 7.38 trillion and may increase in the coming months, as the Supreme Court has lifted the blanket ban on NPAs – thereby indirectly hinting at classifying overdue loans as non-performing. Banks have been requesting the RBI to allow a one-time extension to the debt restructuring scheme launched last year.
The aforesaid backdrop points at the potential stress building up on the Indian banking system and an intensifying credit risk environment. Due to subdued consumer sentiment, the new business of banks may also be impacted due to a low credit growth amid the second wave of COVID-19.
While the banking and financial services sector is central to India's growth, investors now seem to be worried about the potential effects of the second wave of COVID-19 on the sector.
Graph: Nifty Financial Services cracking under pressure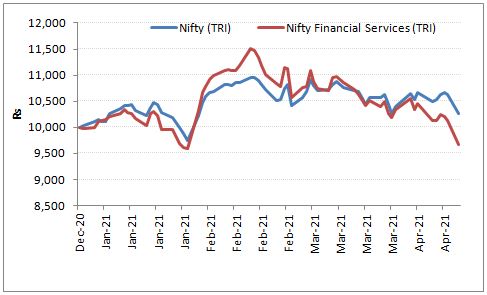 Data as of April 12, 2021
(Source: NSE, PersonalFN Research) 
Since the outbreak of a strong second wave in India from mid-February 2021, the Nifty Financial Services Index (which comprises banks, Non-Banking Financial Companies, and insurance companies) has cracked under pressure while the Nifty (Total Return Index or TRI) has sort of consolidated.
This has weighed on the 1-month and 3-month average returns clocked by Banking & Financial Services Funds, while the 3-year average compounded annualised growth also is nothing to vie for–quite mediocre–compared to the sub-categories of diversified equity-oriented mutual fund schemes, viz. contra funds, flexi-cap funds, large-cap funds, large & mid-cap funds, mid-cap funds, and multi-cap funds among others.
Table: Average returns of various equity mutual fund categories
Category avg. returns (% Absolute)
Category
avg. returns
(% CAGR)
Category
1 Month
3 Months
6 Months
1 Year
3 Years
Contra Funds
-5.3
1.1
28.2
69.2
10.7
Flexi Cap Funds
-4.0
-0.1
23.3
55.5
10.6
Large-cap Funds
-4.8
-1.6
20.5
51.4
10.4
Multi-cap Funds
-4.1
3.4
28.8
62.6
10.3
Focused Funds
-4.5
-0.2
23.8
55.7
10.3
Mid-cap Funds
-3.6
4.3
31.7
73.8
10.2
Large & Mid Cap Funds
-4.1
1.5
26.1
60.8
9.7
ELSS Funds
-4.5
0.1
23.7
58.1
9.3
Dividend Yield Funds
-2.2
1.7
25.9
60.9
8.3
Small Cap Funds
-2.4
8.7
36.9
93.9
8.1
Banks & Financial Services Funds

-11.4

-5.0

26.4
51.7

6.6

Value Funds
-4.3
1.5
27.1
65.5
6.6
Nifty Financial Services – TRI
-10.9
-6.3
27.0
50.5
12.2
NIFTY 50 – TRI
-4.7
-1.5
20.5
58.6
12.4
Data as of April 12, 2021
(Source: ACE MF, PersonalFN Research)
The primary reason for the underperformance of Banking & Financial Services Funds is the overreliance on a few sector-specific stocks. For instance, HDFC Ltd., HDFC Bank, and ICICI Bank account for nearly 60% of the Nifty Financial Services Index as of March 31, 2021, and the top-5 names constituted 76% of the index.
On the other hand, the Nifty (TRI), with a weight of 38% to the financial services sector as of March 31, 2021 (wherein HDFC Ltd., HDFC Bank, and ICICI Bank together account for 24%) and exposure to other sectors/themes; the diversified equity mutual fund schemes have fared far better.
Therefore, a point to note is that the portfolio of any financial services sector fund is most likely to have a significantly higher exposure to 5-6 financial stocks compared to that of a diversified equity fund. This not only makes financial services sector funds more volatile and risky, but their returns are less likely to be evenly spread even on the longer time durations.
Now many of you might be wondering how can you take advantage of India's financial services sector which has a huge growth potential over the long term, without taking undue risks?
Well, the answer lies in Core & Satellite approach. A time-tested strategy followed by some of the most successful equity investors.
The term 'Core' applies to more stable, long-term holdings of the portfolio; while the 'Satellite' applies to the strategic portion that would help push up the overall returns of the portfolio in good market conditions.
As per this strategy, your 'Core holdings' should constitute around 60% of your entire equity mutual fund portfolio and include a Large-cap Fund, Multicap/Flexicap Fund, and a Value Style Fund. The 'Satellite' holdings may account for around 40% of your portfolio and comprise of a Mid-cap Fund, a Large-cap & Mid-cap Fund, and an Aggressive Hybrid Fund.
While you add equity mutual fund schemes to your investment portfolio based on the Core & Satellite strategy, here a few fundamental rules to follow:
Consider funds that have a strong track record of at least 5 years and have been amongst the top performers in their respective categories
The schemes should be diversified across investment styles and fund management
Ensure that each selected scheme abides with its stated objectives, indicated asset allocation, and investment style
You should not only invest across investment styles (such as growth and value) but also across fund houses
The mutual fund schemes should be managed by experienced and competent fund managers and belong to fund houses that have well-defined investment systems and processes in place
Not more than five schemes managed by the same fund manager should be included in the portfolio
Not more than two schemes from the same fund house shall be included in the portfolio
Each scheme that is to be included in the portfolio should have seen an outperformance over at least three market cycles
You should restrict the count of mutual fund schemes in your portfolio to seven
Moreover, after the portfolio is constructed make it a point to review it at least bi-annually. The allocation to the satellite portfolio should change based on the market outlook. If the outlook is extremely gloomy, you may avoid mid-caps altogether and add more exposure to aggressive hybrid funds to add stability.
By wisely reviewing the Core and Satellite portions and the holdings therein, you would be able to add stability to the portfolio and at the same time strategically boost your portfolio returns.
Following a sensible approach in the "Core and Satellite" strategy, will yield the following six key benefits:
Facilitate optimal diversification among equity mutual fund schemes
Reduce the need to frequently churn the portfolio
Reduce the risk profile to your portfolio
Enable you to enjoy the benefits of a variety of investment styles
Create wealth cushioning the downside
Potentially outperforms the market
Note, the Core & Satellite investment strategy may work for you in 2021 and beyond; it is an evergreen approach that brings along immense benefits.
This article first appeared on PersonalFN here