India is witnessing a strong second wave of COVID-19. After bending the curve around mid-September last year, the infections are on the rise every day across parts of the country with the double-mutant strain (E484Q and L452R) and a variety of variants (U.K., South African, and Brazilian).
The tally of active COVID-19 cases in India has reached over 6.59 lakh (as of April 2, 20201), while India has slipped to the third spot (from the second) in the list of COVID-19 infected nations.
Graph 1: COVID-19 continues to cause havoc in India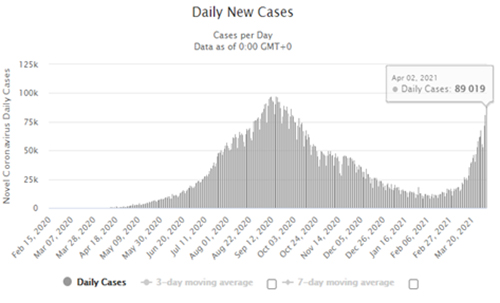 Data as of April 2, 2021
(Source:https://www.worldometers.info/ ) 
In the second wave of the COVID-19 pandemic, nearly 80% of the cumulative cases as of April 1, 2021, are from six states – Maharashtra, Karnataka, Kerala, Chhattisgarh, Punjab, and Madhya Pradesh.
Table 1: States attributing to the second wave of COVID-19
| | | |
| --- | --- | --- |
| State | Active case count | As a % of total active cases |
| Maharashtra | 3,57,604 | 61% |
| Karnataka | 28,267 | 5% |
| Kerala | 25,559 | 4% |
| Chhattisgarh | 25,529 | 4% |
| Punjab | 23,832 | 4% |
| Madhya Pradesh | 17,096 | 3% |
| Total active cases | 5,52,566 | 80% |
Data as on April 1, 2021 (8AM IST)
(Source: Ministry of Health and Family Welfare)
An increase in COVID-19 cases is a worrying sight for citizens, businesses, and policymakers. "The situation is going from bad to worse", expressed Prof. V.K. Paul, a full-time member of the Niti Aayog (Health) and Chairman of the National Expert Group on Vaccine Administration for COVID-19.
The RBI Governor, Mr Shaktikanta Das, too, at the India Economic Conclave (IEC) 2021 in Delhi said, "The renewed surge in Covid-19 cases in the country matter of concern but we have additional insurances this time to tackle the afflictions." On the positive side, we have two vaccines that are being administered today to the populace and India is catching up on the vaccination drive.
Graph 2: Daily COVID-19 vaccine doses administered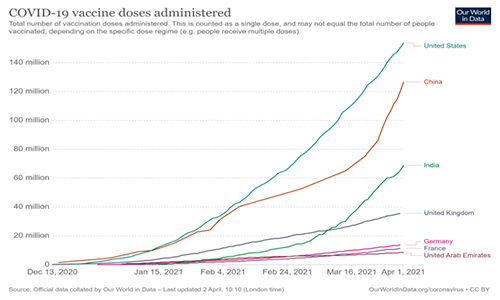 Data from December 13, 2020, to April 1, 2021
(Source: https://ourworldindata.org ) 
More than 6.51 crore Indians across the country have been vaccinated, shows the Ministry of Health and Family Welfare data as of April 1, 2021 (8.00 AM IST). The pace of vaccination is likely to gain further steam with the government allowing all citizens above 45 years of age to get vaccinated, dropping the comorbidity condition.
That said, this being just the first dose, a majority of the population are yet to be inoculated, and now with a widespread second wave of COVID-19; restrictions have been reinstated and localized lockdowns or curfews are imposed in certain states.
Will a complete lockdown be imposed by certain states and would it derail India's path to economic recovery?
Although the risk of a complete lockdown looms, certain states may not want to go into it. This is because a complete lockdown would weigh heavily on economic growth, cause supply-chain issues, impact businesses, cost jobs, and a host of hardships to the common man.
The economic impact of a complete lockdown is usually felt far more significantly on the informal sector, smaller businesses, migrants, daily wage earners, and costs people their jobs. India has started gradually recovering from the pandemic shocks only recently, and thus another complete lockdown might affect India's GPD adversely.
At present, a complete lockdown is turning out to be a politically sensitive decision, particularly for states who majorly contribute to India's GDP. Maharashtra, for instance, at present is the largest contributor to India's GDP with a 14.2% share. Its economy is likely to witness a fall of Rs 1.6 lakh crore (about 8%). Moreover, the per capita GDP of Maharashtra is set to fall from Rs 2.02 lakh to Rs 1.88 lakh in FY21 amidst the COVID-19 pandemic.
Despite this, the policymakers remain fairly confident that the on-going second wave is unlikely to dampen India's economic recovery. Mr Shaktikanta Das, RBI Governor, recently reiterated that RBI's 10.5% growth projection for FY22 is achievable.
As revealed by the minutes of the Monetary Policy Committee Meeting held between February 3 and February 5, 2021; factors such as strong rural demand, improving consumer confidence, reviving business expectations and impetus on infrastructure investments are likely to brighten the economic recovery and quicken the growth momentum.
The direct tax collections are at Rs 9.18 lakh crore as of March 16, 2021, and have exceeded the revised FY21 estimate by Rs 18,000 crore. The Goods and Services Tax (GST) collections in March has hit a record figure of nearly Rs 1.24 lakh crore–being the sixth consecutive month of GST collections exceeding the Rs 1 lakh crore mark. These data points clearly indicate improvement in India's economic undercurrents since the nationwide lockdown last year.
But with the improvement in economic activity, retail inflation has gone up as well, due to higher 'food & beverage prices, 'light and fuel' (due to the rise in oil prices and LPG), and 'transport & communication'. Core inflation (which excludes food, fuel and light) also continues to be sticky. With restrictions being imposed to curb the second wave, supply-chain issues may inflict inflation risk.
Bond yields would continue to harden with fiscal deficit widening and given the government's massive borrowing programme (worth Rs 12.05 lakh crore) for the current fiscal year. Similarly, the rising interest rates could impact India's NPA situation negatively.
Speaking at the India Economic Conclave (IEC) 2021, RBI Governor, Mr Shaktikanta Das stated that maintaining the health of Indian banks is a policy priority and the focus will be on the early identification of risk (of NPAs-Non-Performing Assets). The RBI's Financial Stability Report (FSR) has pointed out that NPAs could rise to 13.5% by September 2021 from 7.5% in September 2020, and under a severe stress scenario, the bad loans to 14.8%. As you would know, the Supreme Court recently rejected the plea to extend the loan moratorium, thereby allowing banks to recognize NPAs.
So, on the backdrop of the above, how will RBI approach its April 2021 monetary policy?
The RBI has time and again reiterated that its policy stance is going to remain accommodative until growth revival is clearly visible.
That being said, the accommodative monetary policy stance could prove counterproductive if CPI inflation rises beyond RBI's comfort range. So far the RBI has been quite accommodative-reduced policy rates by 115 basis points (bps), and since February 2019 by good 250 bps to support growth. Since the last four monetary policy review meetings, it maintained a status quo on policy rates
For the first 11 months of FY21 retail inflation has averaged at 6.3%. Going forward, if retail inflation reports a higher reading that is beyond RBI's comfort range, the six-member Monetary Policy Committee would be left with no option but to increase policy rates. The RBI, however, would ensure that liquidity conditions in the system remain comfortable. So far, the quick response and gradual rollback have been the RBI's strategy to tackle policy matters amidst the pandemic.
Overall, it appears that the present interest rate cycle has bottomed out.
Strategy to approach debt mutual fund investment now…
Most of the rally at the longer end of the yield curve has already come about since the time RBI started reducing policy rates. The returns may moderate on the longer end of the yield curve and could turn riskier (may encounter high volatility) in the foreseeable future.
To approach debt mutual funds, now the shorter end of the yield curve looks more attractive than the longer end. Therefore, you'll be better off deploying your hard-earned money in shorter duration debt mutual funds.
Having said that, approach even short-term debt funds with your eyes wide open, paying attention to the portfolio characteristics and quality of the scheme. Stay away from debt mutual fund schemes that have exposure to low-rated securities in the hunt for yield amidst a time when the credit risk has intensified.
Stick to debt mutual funds where the fund manager does not chase yields by taking higher credit risk but instead focuses on government and quasi-government securities. You may consider Banking & PSU Debt Funds that allocate 85-90% of its assets in instruments issued by major Banks and PSUs for an investment time horizon of 2 to 3 years.
For a shorter time horizon, you would do better going with only pure Liquid Funds and/or Overnight Funds that do not have exposure to private issuers. Do not simply assume all liquid funds are safe. Prefer the safety of principal over returns.
Happy Investing!
This article first appeared on PersonalFN here