The Indian economy is expected to register strong growth in FY 2021-22 as compared to the previous year when most economic activities were affected by the lockdown restrictions. Mid-cap stocks are known to perform well during the economic recovery phase vis-a-vis large-cap counterparts. Consequently, mid-cap funds have showcased strong performance in the past few months.
However, you, the investor should not base your decision to invest in mid-cap funds solely on the recent outperformance. This is especially true if you have a short term investment horizon since there could be a lot of fluctuations in the near term.
Notably, the recent resurgence in COVID-19 cases has once again raised concerns regarding growth prospects. A lot will now rely upon the pace of vaccination drive, corporate earnings growth, and consumption revival in the coming months.
Given the uncertainty, invest only in worthy mid-cap funds that carefully selects fundamentally sound stocks in the mid cap domain with an eye on valuation.
DSP Midcap Fund (DMCF) is one such mid-cap fund that has been able to deliver superior returns in the past market cycles through a well-diversified portfolio of quality stocks.
Graph 1: Growth of Rs 10,000 if invested in DSP Midcap Fund 5 years ago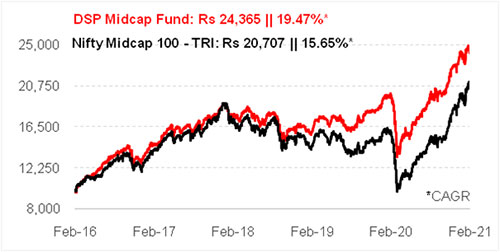 Data as on February 23, 2021
(Source: ACE MF) 
Launched in October 2006, DMCF has been through various market phases and has been successful in delivering superior returns across market cycles. DMCF figures among mid-cap funds that have shown superior outperformance in the recent mid cap crash where it managed to contain the downside risk better than most of its peers. Moreover, the fund has rewarded its investors with superior performance in the subsequent recovery/bull phase. Over the last 5 years, DMCF has generated a compounded annualised return of 19.5%, compared to 15.7% CAGR delivered by its benchmark Nifty Midcap 100 – TRI, thus outperforming the index by a CAGR of around 4 percentage points. The fund focuses on high growth-oriented stocks in the mid-cap segment, available at fair and attractive valuations, which can help in long-term wealth creation for investors.
Table: DSP Midcap Fund's performance vis-à-vis category peers
Returns are point to point and in %, calculated using Direct Plan – Growth option. Those depicted over 1-Yr are compounded annualised.
Data as on February 23, 2021
(Source: ACE MF)
*Please note, this table only represents the best performing funds based solely on past returns and is NOT a recommendation. Mutual Fund investments are subject to market risks. Read all scheme related documents carefully. Past performance is not an indicator for future returns. The percentage returns shown are only for indicative purposes.
DMCF's performance over the recent years sets it apart from most other schemes in the mid-cap funds category. Its strength lies in its ability to perform reasonably well on both sides of the market. DMCF has consistently outpaced its benchmark Nifty Midcap 100 – TRI with a remarkable margin. At the same time, it has generated decent lead over the category average across most time frames. Over the longer time frames of 5-year and 7-year, DMCF easily stands among the top performers in the category.
Despite its affinity for higher returns, the same has been achieved at reasonable risk, thus outperforming the benchmark and most of its category peers with superior risk-adjusted returns as well. The volatility registered by the fund is far lower than the benchmark and many of its peers while its risk-adjusted returns as denoted by Sharpe Ratio is among the highest in the category and better than the benchmark.
Investment strategy of DSP Midcap Fund
DMCF is a typical mid-cap fund that aims to hold a purely midcap biased portfolio by investing in mid-sized companies having immense growth potential. The fund house believes the companies in this space generally trade at a discount to their large cap counterparts and could benefit from re-rating. The fund mainly follows bottom up approach of stock picking wherein the company fundamentals and price valuation is the most important criterion for inclusion of stock in the portfolio.
It invests in companies with consistent earnings and significant growth potential. The fund managers place emphasis on quality and avoid inferior businesses. At times the fund follows the top-down approach when the fund management foresees emerging investment opportunity in a particular sector or a theme.
While zeroing on holdings for the portfolio, the stocks are screened on parameters such as future prospects of the company and the business, financial strength of the company, competitive edge and quality of management to name a few. DMCF aims to invest around 70% of its assets in high conviction stocks with 3% to 6% exposure in each of its high conviction ideas.
Graph 2: Top portfolio holdings in DSP Midcap Fund
Holding in (%) as on January 31, 2021
(Source: ACE MF)
DMCF usually holds a well-diversified portfolio spread across stocks and sectors. As on January 31, 2021, DMCF held a reasonably sized portfolio of 43 stocks, with some popular mid cap names like Cholamandalam Investment & Finance, Supreme Industries, Ipca Laboratories, Coromandel International, and Balkrishna Industries having highest exposure. DMCF also holds some allocation to large cap stocks with Infosys having the highest allocation. Some of these stocks have been in the portfolio for well over 2 years now. The top 10 stocks in the portfolio together accounted for around 36.9% of the total assets.
DMCF has been riding on stocks like Infosys, Ipca Laboratories, Jubilant FoodWorks, SRF, Emami, Coromandel International, Balkrishna Industries, Supreme Industries, etc. that have been the major gainers in the portfolio in the last 1 year. However, stocks like City Union Bank, Bata India, The Federal Bank, Gujarat State Petronet, Manappuram Finance, among others eroded some of its gains.
DMCF's portfolio is fairly diversified across cyclical, defensive and sensitive sectors. Banking and Finance stocks dominate the portfolio with a combined allocation of 21.7% followed by Engineering stocks at 15.1%. Consumption, Pharmaceuticals, Auto Ancillaries, Infotech, Consumer Durables, Fertilisers, and Chemicals, stand among the other core sectors in the fund's portfolio.
Suitability
DMCF is a process-driven fund that has been agile enough to take advantage of various investment opportunities present in the mid-cap segment. The fund has a superior track record of outperformance over its benchmark index and the category average across longer time periods. It aims to invest in growth-oriented stocks but at right valuations.
The fund appears to be well placed in terms of its portfolio management strategies with a highly experienced fund manager at the helm and has the potential to reward investors who are willing to stay invested in the fund for a long term. DMCF is managed by Mr Vinit Sambre who is a veteran in the mid and small cap space and has been at the helm of the scheme for over 8 years now. Notably, the fund is suitable only for investors having high risk appetite and long term investment horizon.
Note: This write up is for information purpose and does not constitute any kind of investment advice or a recommendation to Buy / Hold / Sell a fund. Returns mentioned herein are in no way a guarantee or promise of future returns. As an investor, you need to pick the right fund to meet your financial goals. If you are not sure about your risk appetite, do consult your investment consultant/advisor. Mutual Fund Investments are subject to market risks, read all scheme related documents carefully.
This article first appeared on PersonalFN here