Exposure to select stocks/sectors can give your portfolio the much needed push to generate higher returns. One kind of mutual fund that can do this is Focused Funds. It aims to invest and capitalise on high conviction ideas across market capitalisation and sectors that may be well placed to withstand volatility as well as have high growth potential.
Though most equity funds invest in sizeable portfolio of 50-80 stocks, only a few select stocks in the portfolio drive the performance of the fund over a period of time.
For instance, on February 03, the S&P BSE Sensex closed above the historic milestone of 50,000 mark led by the expectations of economic recovery after the announcement of various growth-inducing proposals in the Union Budget 2021. While the index is made up of various constituents, it was the heavyweights such as HDFC Bank, HDFC Ltd., and Reliance Industries, and Infosys that predominantly boosted the bull run.
Here's how it works…Focused funds are mandated to invest in a compact portfolio of maximum 30 high conviction stocks. This means that when these stocks gain, the concentrated nature of the portfolio can enable it to generate market-beating returns.
Axis Focused 25 Fund (AF25F) is one such focused fund that focuses on 25 high conviction ideas while remaining diversified.
Graph 1: Growth of Rs 10,000 if invested in Axis Focused 25 Fund 5 years ago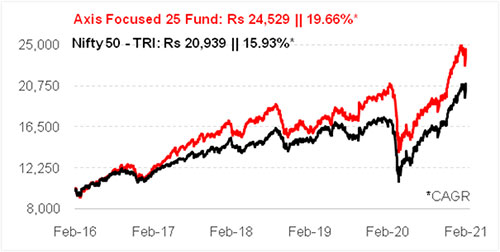 Data as on February 02, 2021
(Source: ACE MF)
AF25F aims to hold a high conviction portfolio of 25 stocks with a dedicated focus on sustainable growth. Belonging to a process-driven fund house, it emphasizes reasonable diversification and focuses on quality and risk management. It invests in stocks of quality companies that have the capability to sail through their business cycles without being affected by short-term market volatility. The fund's management team believes in staying invested in quality and growth names where the visibility of earnings is high. The superior performance of the fund has helped it gain popularity among investors, making it one of the top contenders in the category. Over the last 5 years, AF25F has rewarded investors with a CAGR of around 19.7%, as against 15.9% CAGR delivered by its benchmark index, thus generating a healthy alpha of close to 4 percentage point CAGR compared to the benchmark. Hence, an investment of Rs 10,000 in the fund 5 years back would have now appreciated to Rs 24,529 as against Rs 20,939 for the simultaneous investment in the market index.
Table: Axis Focused 25 Fund's performance vis-à-vis category peers
Returns are point to point and in %, calculated using Direct Plan – Growth option. Those depicted over 1-Yr are compounded annualised.
Data as on February 02, 2021
(Source: ACE MF)
*Please note, this table only represents the best performing funds based solely on past returns and is NOT a recommendation. Mutual Fund investments are subject to market risks. Read all scheme related documents carefully. Past performance is not an indicator for future returns. The percentage returns shown are only for indicative purposes.
AF25F has shown superior performance over the last few years and holds a strong track record of outperforming the benchmark Nifty 50 – TRI as well as its peers by a significant margin. Over the longer 5-year and 7-year period, the fund has generated an alpha of around 4-5 percentage points over its benchmark Nifty 50 – TRI Index.
On shorter time periods of 2-year to 3-year return basis, the fund has managed to garner a clear lead over its benchmark and the category average. Overall, its performance in past market phases has been respectable.
On risk-return parameters, AF25F clearly stands out against its peers and the benchmark index. While the volatility registered by the fund is reasonable, its risk-adjusted return, as denoted by Sharpe Ratio is among the best in the category.
Investment strategy of Axis Focused 25 Fund
Categorised under focused funds, AF25F is mandated to invest in a concentrated portfolio of maximum 25 companies spread across market capitalisation. The scheme aims to identify high conviction stock ideas with focus on companies that have the capability to sail through their business cycles without being affected by short term market volatility. While it offers the benefit of holding higher exposure to high conviction ideas, the fund manages risk by diversifying the portfolio across sectors.
When picking stocks, the fund follows the bottom-up approach to identify best ideas and holds higher allocation to some of the selected stocks. The fund manager looks at 3 broad buckets to construct the portfolio:
50-60% allocation in 'Core portfolio' which consists of steady compounders that can generate reasonable returns with low volatility
20-25% in 'Alpha generating bets' which consist of companies having a cyclical tailwind
20-25% in 'Emerging themes' bucket with high growth potential
Axis mutual fund house is biased towards playing long-term growth stories and holds stocks with a long term view. Following the bottom-up approach of stock picking, AF25F holds a compact portfolio of about 25 stocks, limiting exposure to single stocks within the 10% mark. Although AF25F follows a buy and hold investment strategy, it is nimble in its approach and does not hesitate to churn a small portion of its portfolio to capture attractive opportunities. The turnover ratio of the fund has ranged 145%-150% in the last 12 months.
Graph 2: Top portfolio holdings in Axis Focused 25 Fund
Holding in (%) as on December 31, 2020
(Source: ACE MF)
As on December 30, 2020, AF25F held a compact portfolio of 23 stocks. The top-10 stocks accounted for around 69.9% of its assets. Bajaj Finance topped the list with an exposure of around 9.7%, followed by TCS, Kotak Mahindra Bank, and HDFC Ltd., and with allocation of around 7% to 9% each. HDFC Bank, Reliance Industries, Avenue Supermarts, Info Edge (India), Maruti Suzuki India, Pidilite Industries, were among the other top holdings in the fund's portfolio.
Over the past 12 months, the fund has maintained an allocation of about 80%-90% in large-cap stocks, with 5%-10% in mid-caps. It held no exposure to small-caps.
The fund manager's high conviction bets on names such as, Info Edge (India), Avenue Supermarts, Asian Paints, Kotak Mahindra Bank, Bajaj Finance, Divi's Laboratories, TCS, Reliance Industries, Supreme Industries, etc. have turned out to be extremely rewarding for the fund over the last one year.
AF25F minimises risk by diversifying its portfolio across sectors. As on December 31, 2020, around one-third of the fund's portfolio was exposed to Banking and Finance stocks. Infotech, Pharma, Petroleum, Retail, Auto& auto ancillaries, Chemicals, and Engineering stood among the other top sectors in the portfolio. The top 10 sectors together accounted for about 92% of its assets.
Suitability
AF25F has a very impressive track record of generating superior alpha over its benchmark without engaging in undue risk and has proven its ability to limit the downside. AF25F avoids benchmarking the index; the investments in stocks are made typically at the conviction of the fund manager, irrespective of their weightage in the index. Certainly the performance of the fund may deviate significantly from the benchmark.
Although AF25F holds a compact portfolio, it is fairly diversified. However, on a broader allocation, the exposure to few sectors like Banking, Financials, and Infotech is considerably high. The higher concentration to selective sectors may result in short-term volatility, if any of these sectors witness a rough patch or is temporarily out of favour.
This makes AF25F suitable for aggressive investors looking for a reliable conviction-driven fund that has the potential to generate market beating returns in the long run.
Note: This write up is for information purpose and does not constitute any kind of investment advice or a recommendation to Buy / Hold / Sell a fund. Returns mentioned herein are in no way a guarantee or promise of future returns. As an investor, you need to pick the right fund to meet your financial goals. If you are not sure about your risk appetite, do consult your investment consultant/advisor. Mutual Fund Investments are subject to market risks, read all scheme related documents carefully.
This article first appeared on PersonalFN here