Three years after the small cap space witnessed a severe correction, small cap funds are back in the limelight. In the last one year the category has outpaced its larger sized peers by a remarkable margin.
This can be attributed to various government initiatives that are expected to strengthen the growth prospects of small companies. Moreover, as and when normalcy returns in the economy post the pandemic crisis, smaller companies could emerge as one of the major beneficiaries.
Small cap stocks have growth potential; various stocks in the smallcap space become multi-baggers over the period. This gives fund managers of small cap funds an opportunity to reward investors with alpha.
But beware that small cap companies are highly vulnerable during weak economic conditions; therefore, small cap funds are prone to high risk and may test your patience. Therefore, for your long term goals invest in a small cap fund that is selective about the stocks that form a part of its investment universe.
SBI Small Cap Fund (SSCF) is a small cap fund that has stood strong in the recent market crash and has found a place among top performers.
Graph 1: Growth of Rs 10,000 if invested in SBI Smallcap Fund 5 years ago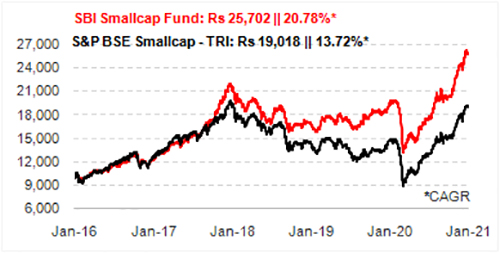 Data as on January 20, 2021
(Source: ACE MF) 
SSCF has established itself in the small-cap funds category with its superior long term track record. Over the 5 period, SSCF has been the top performer in its category, rewarding investors with a CAGR of around 20.8%, as against the 13.7% CAGR delivered by its benchmark S&P BSE Small-Cap TRI. This means SSCF generated an alpha of around 7% CAGR for its investors. Backed by its superior performance, it has gained tremendous popularity and its AUM has grown more than 4 times in the last 2 years. While SSCF is prone to high risk and does compromise on safety, it still has the ability to compensate long term investors with superior returns and reward them for their patience. Notably, in the recent small cap correction, the fund outscored the benchmark S&P BSE Small-Cap – TRI by a CAGR of close to 7 percentage points.
Table: SBI Smallcap Fund's performance vis-a-vis category peers
Returns are point to point and in %, calculated using Direct Plan – Growth option. Those depicted over 1-Yr are compounded annualised.
Data as on January 20, 2021
(Source: ACE MF)
*Please note, this table only represents the best performing funds based solely on past returns and is NOT a recommendation. Mutual Fund investments are subject to market risks. Read all scheme related documents carefully. Past performance is not an indicator for future returns. The percentage returns shown are only for indicative purposes.
SSCF is a top quartile performer that has consistently registered above average returns across time periods and has outperformed its benchmark S&P BSE Small-Cap – TRI by a noticeable margin. Its performance has been far superior to the benchmark across periods, where it has generated an alpha of around 3 to 7 percentage points. SSCF has also outpaced most of its peers across time frames.
This outperformance has come at a relatively reasonable risk. The fund's Standard Deviation (25.7%, annualised) is lower than that of its benchmark (29.3%, annualised) as well as the category average. In terms of risk-adjusted returns (as denoted by the Sharpe Ratio), SSCF is among the top performers in the small cap funds category and has outperformed its benchmark by a significant margin.
Investment strategy of SBI Smallcap Fund
SSCF aims to provide investors with opportunities for long-term growth in capital along with the liquidity of an open-ended scheme by investing predominantly in a well-diversified basket of equity stocks of small cap companies. The fund is mandated to hold minimum 65% of its investment in equity & equity related instruments of small cap companies (companies ranking 251st onwards in terms of full market capitalization, as defined by SEBI).
SSCF follows a blend of growth and value style of investing. The fund manager looks to invest in high growth-oriented multi-bagger stocks of small sized companies, but is cautious about the price he is willing to pay for the stock. He also hunts for temporarily beaten down stocks available at cheap valuation and does not resist from taking few short term calls. The fund manager follows the bottom-up approach to stock-picking and is selective when choosing companies within the small cap space.
Graph 2: Top portfolio holdings in SBI Smallcap Fund
Holding in (%) as on December 31, 2021
(Source: ACE MF)
SSCF usually holds a fairly-diversified portfolio of about 40 to 50 stocks. As on December 31, 2020, the fund held 48 stocks in its portfolio reasonably diversified across sectors. The top 10 holdings accounted for 36.3% of the portfolio. Among its top holdings, the fund held exposure to Elgi Equipments (5.1%), JK Cement (4.9%), Blue Star (3.5%), Sheela Foam (3.5%), and V-guard Industries (3.4%), together accounting for around 20% of its assets.
The fund's portfolio is majorly skewed towards Engineering where its current allocation stands at 25.9%. Consumer Durables, Chemicals, Consumption, Cement, Hotels, and Banks, are among the other prominent sectors in SSCF's portfolio. The fund's portfolio is spread across cyclicals, sensitive, as well as defensive sectors.
SSCF has benefited immensely from Dixon Technologies which turned out be a multi-bagger stock in its portfolio. It also gained from its holdings in JK Cement, Hatsun Agro Products, Hawkins Cookers, Tube Investments of India, Alembic, Relaxo Footwears, etc.
Suitability
SSCF is one of the well-managed schemes in the small cap funds category that has built a solid track record for itself and has rewarded its investors well. It has a proven track record of identifying fundamentally sound stocks in the small cap space that helps it to outpace its peers and the benchmark index. Its fund manager, Mr R Srinivasan has been managing SSCF for well over seven years now and has led the fund in generating market-beating returns across market cycles.
Being a small cap biased fund, SSCF is bound to witness extreme volatility in conditions when the small cap stocks are under pressure or see a sharp correction. However, the fund's ability to recognise worthy companies at an early stage of development may help it do well in the long run.
Therefore, SSCF is suitable for aggressive investors having an investment horizon of at least 5-7 years.
Note: This write up is for information purpose and does not constitute any kind of investment advice or a recommendation to Buy / Hold / Sell a fund. Returns mentioned herein are in no way a guarantee or promise of future returns. As an investor, you need to pick the right fund to meet your financial goals. If you are not sure about your risk appetite, do consult your investment consultant/advisor. Mutual Fund Investments are subject to market risks, read all scheme related documents carefully.
This article first appeared on PersonalFN here