Franklin Templeton Mutual Fund's e-voting process to decide on the winding up of six of its debt schemes commenced on December 26. The voting process will be held from 9 am on December 26 till 6 pm on December 28 where investors can decide whether they consent to wind up of these schemes. Investors (limited number of attendees) can also vote during the meeting with Trustee to be held via video-conferencing on December 29.
The voting activity for each of the six schemes will be conducted separately. If you are an investor in one or more of the schemes under winding, you will be required to vote separately for each scheme.
FT initiated steps to seek unitholders' consent for the closure of six debt schemes pursuant to Supreme Court's order. The apex court has ordered a stay on redemptions in the schemes until further notice.
Now it's up to the investors to decide the way forward of these schemes. Unitholders will have the option to vote 'Yes' (in favour of) or 'No' (against) for winding up of schemes. FT will require consent by a simple majority in order to go ahead with the winding up of schemes.
The result of the e-voting will be produced before the SC in a sealed cover when the next round of hearing begins in the third week of January.
Here is what a majority vote in either of these options means for investors in the scheme:
If majority unit holders vote 'Yes'
Once FT receives the consent to wind up the schemes, it can initiate the steps to monetise the assets and distribute the funds to unitholders. Voting 'Yes' will allow the fund house to proceed with the winding up of schemes in an orderly manner.
Out of the six schemes under winding up, four schemes i.e. Franklin India Ultra Short Bond Fund (FIUBF), Franklin India Dynamic Accrual Fund (FIDA), Franklin India Low Duration Fund (FILDF), and Franklin India Credit Risk Fund (FICRF) have turned cash positive till now. Moreover, the borrowing levels in Franklin India Short Term Income Plan (FISTIP), and Franklin India Income Opportunities Fund (FIIOF) has reduced. Between April 24, 2020 to December 15, 2020, the six schemes under winding up received Rs 11, 907 crore from maturities, pre-payments, and coupons. Of this, Rs 7,488 crore is available for distribution to unitholders.
Table: Expected timeline of payout from wound-up schemes of FTMF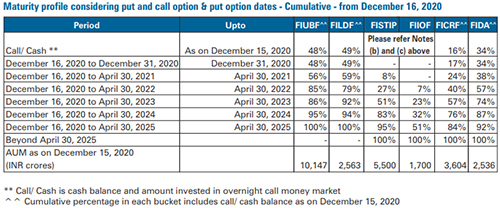 (Source: Franklin Templeton Mutual Fund)
After the fund house gets the consent to liquidate the schemes, it can start payout from the cash positive schemes. As seen in the table above, unitholders of FIUBF, FILDF, FICRF, and FIDA will be able to recover a significant chunk of money within the next couple of years.
Unit holders of FISTIP and FIIOF will have to wait longer to get their money back since the funds' portfolio is invested majorly in medium to long duration securities. Regardless, if you vote 'Yes' it will ensure that the schemes derive maximum value from securities.
Of course, some of the securities would likely default but still, there is a fairly good chance that unitholders will recover most of their money. Debt market conditions have improved and there is ample liquidity which bodes well for some of the securities that are currently facing stress.
If majority unit holders vote 'No'
There is no clarity on how things pan out if the majority unitholders do not approve the winding up of schemes. If this leads to reopening of schemes, it could result in a high volume of redemption requests. Notably, a substantial portion of the portfolio of the six schemes is invested in highly risky low rated securities. Thus, the fund house may have to undertake distressed sale of assets to meet the redemptions request, resulting in a reduction in the net asset value (NAV) of the schemes and substantial losses to the unitholders.
It could also result in disproportionate distribution of any cash generated to unitholders depending on the time of redemption.
Since the matter is sub judice, the court may ask FT to compensate unitholders for losses incurred on account of distressed sale of assets. But naturally, FT will have the option to contest it and seek legal remedy leading to further delay in recovery timeline for unitholders.
In my opinion, unitholders should vote 'Yes' to allow the schemes to liquidate in an orderly manner and derive maximum value to the unitholders.
The important point to consider while voting is to get back the maximum money as quickly as possible. So weigh each option carefully before casting your vote.
This article first appeared on PersonalFN here