Franklin Templeton Mutual Fund has informed its investors of the six wound-up debt schemes about the e-voting process that will take place from 9 am on December 26 till 6 pm on December 28 for their consent to wind up these schemes.
The voting activity for each of the six schemes will be conducted separately. If you are an investor in one or more of the schemes under winding, you will be required to vote separately for each scheme.
It will also conduct a meeting via video conferencing for each scheme separately on December 29 where the unitholders will get a chance to talk to the trustees. Unitholders can e-vote during the meeting as well.
Earlier on December 03, the Supreme Court had asked FT to initiate steps to seek unitholders' consent for closure of six debt schemes. It also ordered stay on redemptions in the schemes until further notice. Further, the apex court has agreed to hear an appeal filed by FT against Karnataka High Court order, which had asked the fund house to not proceed with the winding up of schemes without gaining prior consent of the unitholders.
FT has partnered with K Fintech for the electronic voting process and the unitholders meeting to seek unitholders' consent. FT will require consent by a simple majority in order to go ahead with the winding up of schemes.
What will the voting process entail?
Unit holders will have the option to vote 'Yes' (in favour of) or 'No' (against) for winding up of schemes.
FT India President, Sanjay Sapre has urged unitholders to vote in favour of winding up of schemes to ensure liquidation in an orderly manner with a potential to realize fair value from the assets. He said that this affirmative option would enable the recovery of maximum value of securities the schemes hold because there will be no selling pressure. Sapre has assured unitholders that an orderly winding up does not mean a lengthy wait for return of money.
Once the six schemes receive the investors' consent for winding up, the Trustees will then proceed to seek further approval from unitholders for appointment of a person under Regulation 41(1) to carry out the winding up. However, FT has warned unitholders of the potential run on the schemes if they do not receive consent to go ahead with the winding up and the schemes are reopened.
According to FT, reopening of the schemes could result in a high volume of redemption requests pushing the schemes to undertake distress sale of assets since the market is unlikely to have the liquidity to absorb such large quantities of securities over a short period of time. This could result in a reduction in the net asset value (NAV) of the schemes and substantial losses to the unitholders.
FT added that in the case of reopening the schemes, unitholders will have to apply for redemptions if they wish to receive monies. This may result in disproportionate distribution of any cash generated to unitholders depending on the time of redemption.
Till now 4 out of 6 schemes have turned cash positive after repaying the borrowings. These are Franklin India Ultra Short Bond Fund (FIUBF), Franklin India Dynamic Accrual Fund (FIDA), Franklin India Low Duration Fund (FILDF), and Franklin India Credit Risk Fund (FICRF). Franklin India Short Term Income Plan (FISTIP), and Franklin India Income Opportunities Fund (FIIOF) still have outstanding borrowings. The six schemes together have an AUM of Rs 25,861 as on November 27, 2020.
Table: Expected timeline of payout from wound-up schemes of FTMF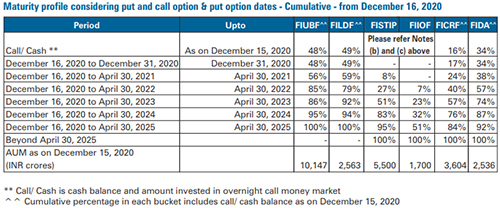 (Source: Franklin Templeton Mutual Fund)
FT has received Rs 11,576 crore as of November 27 from the six schemes in the form of maturities, prepayments, and coupons. Of this, Rs 7,226 crore is available for distribution to unitholders in the four cash positive schemes.
Once the trustees of the fund receive consent, they can proceed with the monetization of assets and distribution of funds to unitholders in the respective schemes.
This article first appeared on PersonalFN here