India seems to be on the path to recovery and now it remains interesting to see how the
Reserve Bank of India (RBI)
responds to the GDP growth numbers. It would be too early to say that the economy is out of woods, but -7.5% GDP growth in Q2FY21 is better than expected. Agriculture was one of the best performing sectors of the economy clocking +3.4% growth in Q2FY21. Construction activity has gathered pace in the September quarter, with the reading coming at -8.6% versus -50.3% in Q1FY21. Similarly, trade, hotels, transport, and communication services related to broadcasting, rebounded sharply from the previous quarter readings. Even utilities and manufacturing sectors have done reasonably well.
Table: Quarterly Estimates of GVA at Basic Prices in Q2 (July-September) of 2020-21 (At 2011-12 Prices)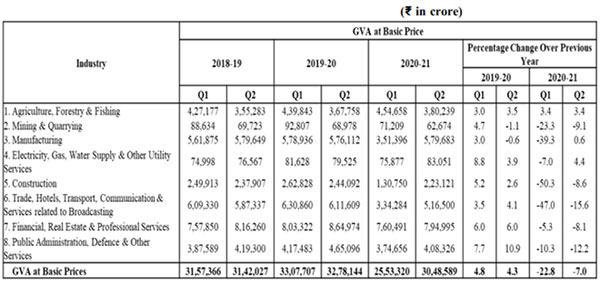 (Source: National Statistical Office's Press Note)
This signals that India's economy may grow if supported by demand and provided the country does not witness a very widespread second wave of the
COVID-19 pandemic
, as witnessed by many parts of the world.
Having said that, for India to end this financial year even in a single-digit negative number; GDP growth has to really fire up in Q3FY21 and Q4FY21.
While the RBI may want to address growth concerns via its monetary policy action, an important macroeconomic variable, the CPI inflation, is playing a spoiler.
Graph 1: CPI inflation has been over RBI's comfort zone for good seven consecutive months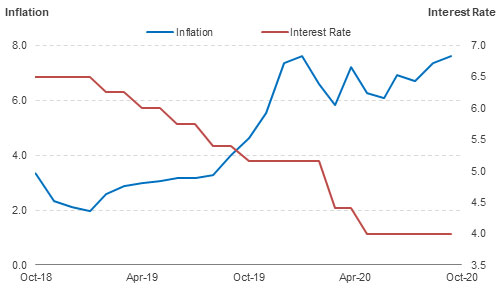 Data as of October 2020
(Source: MOSPI, RBI, PersonalFN Research)
The RBI's six-member Monetary Policy Committee (MPC) has resolved to keep CPI inflation in the range of 2.00% to 6.00%. Even last month amidst the pandemic, CPI inflation moved up due to supply chain issues. Price of vegetables, pulses, and protein-rich items such as meat, fish and eggs, reported high double-digit readings. Fuel & light inflation, thankfully, was flat.
Core inflation (excluding food and fuel), also remained elevated around 6.0% from 4.0% earlier this year.
Despite the economic activity slowly getting back to normal and supply chain issues ironed out to an extent, inflation hasn't cooled off.
In the minutes of MPC meeting conducted between October 7 and October 9, 2020, it is noted that besides the rising cost of doing business; sanitization related expenses, shortfall of labour and social distancing norms have been inflationary.
The RBI has maintained that the headline inflation would soften in H2FY21. The pressure on prices of key vegetables as per the RBI is expected to ebb by Q3FY21 with kharif arrival.
Graph 2: RBI's quarterly projection of CPI inflation (year-on-year)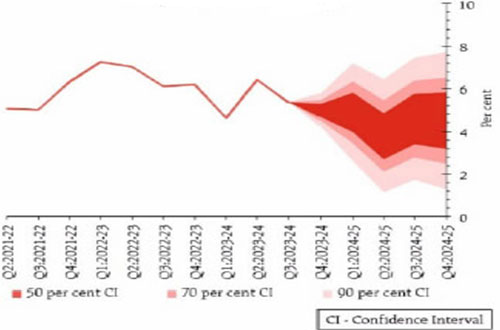 (Source: RBI's Monetary Policy Statement, 2020-21: October 9, 2020)
CPI inflation is projected at 5.4-4.5% for H2:2020-21 and 4.3% for Q1:2021-22, with risks broadly balanced as stated by the RBI in its October 2020 monetary policy statement.
However, going by the CPI inflation reading for October 2020, it remains crucial to see if RBI makes any upward revision in its baseline inflation projection.
What to expect from the RBI on the policy rates front?
The MPC kept repo rates unchanged at 4% in the October review, but also decided to maintain the accommodative policy stance as long as necessary while ensuring that the inflation remains within its comfort zone going forward.
To support growth and make it more sustainable along with negating the impact of COVID-19, the MPC has hinted that the policy stance may remain accommodative at least during the financial year and into the next year.
As stated by the RBI Governor, Mr Shaktikanta Das, the policy transmission improved with the availability of ample liquidity in the system and external benchmark-based pricing of loans. RBI has infused Rs 12.3 lakh crore through various policy measures so far. The central bank is hopeful that the higher investments along with structural reforms undertaken by the government in the recent past, will help de-bottleneck supplies and reduce inflationary pressures.
Mr Das states in the minutes of the Monetary Policy Committee Meeting held on October 7 to 9, 2020, that the monetary policy has to provide adequate support to ensure a robust revival of the economy from the devastating effects of COVID-19, while at the same time ensuring that any persistence of elevated inflation does not lead to un-anchoring of inflation expectations. He recognises that there exists space for future rate cuts if the inflation evolves in line with the expectations. However, in his view, this space needs to be used judiciously to support recovery in growth.
The RBI is unlikely to increase policy rates in a hurry. So far, since the outbreak of COVID-19 pandemic, the RBI has reduced policy rates by 115 basis points (bps). And from February 2019 until now, the reduction in policy rates is good 250 bps with the accommodative stance taken since June 2019 to address growth concerns.
In the December 2020 monetary policy statement for 2020-21, the RBI would once again maintain a status quo on policy rates. The future rate cuts might be subject to inflation coming off sharply from the present levels (which looks a tough going by the recent trends).
What should investors in debt instruments do?
Overall, it appears that the present interest rate cycle has almost bottomed out. Most of the rally at the longer end of the yield curve has already come about since the time the RBI started reducing policy rates.
Going forward, debt securities with longer maturity papers may not be able to generate returns as seen in the last couple of years. The returns may moderate on the longer end of the yield curve and could turn riskier (may encounter high volatility) in the foreseeable future.
Currently, the shorter end of the yield curve looks more attractive than the longer end. That said, even while approaching the shorter end of the yield curve, be ultra-careful — keep your eyes wide open. Stay away from debt mutual fund schemes that have exposure to low-rated securities in the hunt for yield.
Amidst the COVID-19 pandemic, credit risk has heightened and debt papers of certain companies may see downgrades. Hence, stick to debt mutual funds where the fund manager does not chase yields by taking higher credit risk. Clearly avoid investing in credit risk funds, which are inherently riskier.
If you have a time horizon of less than a year, consider pure Liquid Funds that do not have exposure to private issuers. Do not invest in funds that compromise on portfolio quality for returns, pay low attention to risk management and the ones not following sound investment systems and processes.
Our friends at Quantum Mutual Fund have highlighted the secret behind their debt management strategy, which has helped them provide safety and liquidity to investors when it comes to investing in Quantum funds. Don't Worry, Quantum Liquid Fund always aims for Safety and Liquidity.
For an investment horizon of more than a year, you may consider Banking & PSU Debt Funds that allocate 85-90% of their assets in instruments issued by major Banks and PSUs.
Do not assume debt mutual funds schemes to be risk-free. There have been several instances where owing to toxic debt papers held in the portfolio, investors have lost hard-earned money.
Assess your risk appetite and investment time horizon while investing in debt funds.
Besides your risk appetite and time horizon, pay attention to the following facets while selecting a debt fund scheme for your portfolio:
The credit quality of the portfolio
The average maturity profile
The Assets Under Management (AUM) and the expense ratio of the scheme
The rolling returns and risk ratios
The Interest rate cycle
The investment processes and systems at the fund house
This article first appeared on PersonalFN here