After the recent ban on Chinese apps, this is an opportunity for large firms to expand their horizons further. Most large firms offer stability and form a part of the index. Looking at this growth opportunity, Sundaram Mutual Fund launches Sundaram Bluechip Fund, an open-ended scheme that will invest in large cap stocks which are the first 100 companies in terms of full market capitalization.
Despite the recent pandemic, large caps have managed to sustain the shock, as seen from the graph below.
Thus, when you plan for long-term goals, want the stability of large-caps with average return potential with less volatility, if you have the stomach for moderately high risk, you may skew your equity portfolio to a large-cap fund.
Graph: Large caps fare better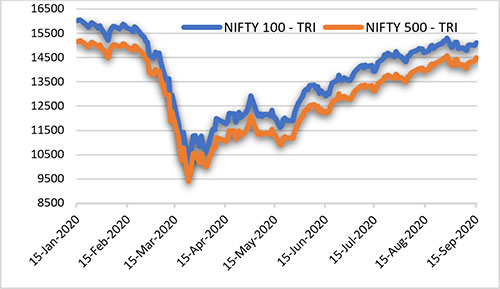 Data as on September 16, 2020
(Source: ACEMF; PersonalFN Research)
Sundaram Bluechip Fund will allocate more of its assets to large cap stocks, with a little allocation towards stocks that are not large cap, debt, units of Units issued by ReIts / InvIts and probably overseas securities. Hence this fund being an equity fund has high risk, so it is suitable for investors who are seeking moderate returns at moderately high risk for an investment horizon of 3 to 4 years.
Table 1: Details of Sundaram Bluechip Fund
Type
An open-ended equity scheme predominantly investing in large
cap stocks.
Category
Largecap Fund
Investment Objective
To generate capital appreciation by investing in large cap stocks.
No Guarantee: there is no guarantee or assurance that the investment objective of the scheme will be achieved. Investors are neither being offered any guaranteed / indicated returns nor any guarantee on repayment of capital by the Schemes. There is also no guarantee of capital or return either by the mutual Fund or by the sponsor or by the Asset management Company.
Min. Investment
Rs 5,000 and in multiples of Re 1 thereafter
Face Value
Rs 10 per unit
Plans
Options

Growth*
Dividend

Pay-out
Reinvestment *
Sweep

*Default option
Entry Load
Nil
Exit Load

For redemption/switchout within 12 months from the date of allotment – 1%.

For redemption/switchout on or after 12 months from the date of allotment – Nil

Fund Manager

Mr Rahul Baijal & Mr S Krishnakumar (Equity)

Mr Dwijendra Srivastava (Fixed Income)

Mr Rohit Seksaria for in overseas securities

Benchmark Index
Nifty 100 TRI Index
Issue Opens
17/09/2020
Issue Closes:
30/09/2020
(Source: Scheme Information Document)
How will the scheme allocate its assets?
Under normal circumstances, it is anticipated that the asset allocation of BLMF will be as follows:
Table 2: SBF 's Asset Allocation
Instruments
Indicative Allocation (% of Total Assets)
Risk Profile
Minimum
Maximum
Equity & equity related securities of large cap stocks@
80
100
High
Other Equity
0
20
High
Investment in overseas securities / ADR's / GDR's
0
20
High
Fixed Income and money market Instruments^/ Cash & Cash equivalents
0
20
Low to Medium
Units issued by ReIts / InvIts
0
10
Medium to High