Surging COVID-19 cases and the slow pace of demand revival has added to the worries that worst may not be over for the economy yet. This has lead equity mutual fund investors to wait on the sidelines before redeploying their hard-earned money.
Investors who do not want to take very high risk in the current scenario can invest in multi cap funds that have the flexibility to switch between market capitalisation and sectors based on market conditions and prospects. This flexible mandate can help to control the downside risk during depressing market conditions as well as benefit significantly from the recovery.
Multicap funds are riskier than large cap funds, but less risky than mid-cap funds and small-cap funds. It can be considered as a great investment avenue for long-term investors who aim to tap the growth potential of broader equity markets.
UTI Equity Fund (UEF) is one such prudently managed multi-cap funds that has shown extra ordinary performance in the recent market crash and rewarded investors with superior risk-adjusted returns.
Graph 1: Growth of Rs 10,000 if invested in UTI Equity Fund 5 years ago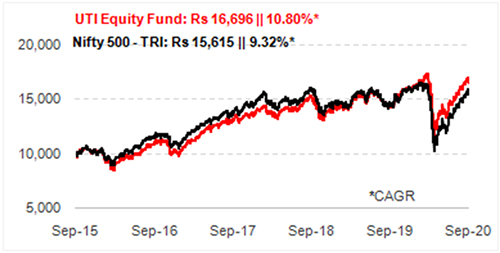 Data as on September 09, 2020
(Source: ACE MF)
Launched way back in May 1992, UTI Equity Fund (UEF) is one of the oldest schemes in the Indian mutual fund industry. The fund remained a mute spectator during the 2016-2017 market rally where it significantly underperformed the benchmark. However, it showed stability during the 2018 mid cap crash. The fund's recategorisation as a multi-cap fund from its previous large-cap oriented mandate offered it the opportunity to add some good mid cap names at a discounted price. The fund has shown a great breakthrough in its performance and stood strong in the recent market crash. Over the last 5 years, UEF has registered a growth of around 10.8% CAGR as against 9.3% CAGR by its benchmark Nifty 500 – TRI, thus outpacing the benchmark by around 1.5 percentage point.
Table: UTI Equity Fund's performance vis-a-vis category peers
Returns are point to point and in %, calculated using Direct Plan – Growth option. Those depicted over 1-Yr are compounded annualised.
Data as on September 09, 2020
(Source: ACE MF)
*Please note, this table only represents the best performing funds based solely on past returns and is NOT a recommendation. Mutual Fund investments are subject to market risks. Read all scheme related documents carefully. Past performance is not an indicator for future returns. The percentage returns shown are only for indicative purposes.
In the past, UEF has been found struggling to match the performance of its benchmark and similar category peers. However, the wait seems to be over for the fund. With an absolute return of around 13.7% in the last one year, UEF has managed to generate an alpha of around 9 percentage points over the benchmark Nifty 500 – TRI. The recent outperformance has helped it figure among the top quartile performers and has even scaled up its performance across time periods. On a longer 3-year, 5-year, and 7-year periods the fund has managed to significantly outpace the index and has also fared better than many of its category peers.
In addition to this, UEF has shown a fair level of stability. Its standard deviation of 20.60% signifies that the funds volatility has been lower than the benchmark (21.90%), as well as the category average (21.39%). With superior performance in the recent past, the fund has shown significant improvement in its risk-adjusted return. Its Sharpe Ratio of 0.08 is far more competitive in comparison to its prominent category peers and the benchmark.
Investment strategy of UTI Equity Fund
Classified under Multi Cap Funds category, UEF is mandated to invest minimum 65% of its investment in equity & equity related instruments with exposure across market caps. However, there is no minimum limit or restriction specified for any market cap segment. UEF holds a portfolio spread across market capitalisation, but with predominant allocation of around 65% to large caps and up to 35% in mid and small caps.
The fund endeavours to pick high quality businesses run by seasoned quality managements and has the ability to show strong growth for a long period of time using bottom-up approach. The focus is on businesses operating in secular growth industries that can generate economic value through the cycle, rather than cyclical industries which are highly volatile. Accordingly, the fund looks for stocks of quality companies that can perform across market cycles and mitigate drawdowns during depressing market conditions, and rebound faster based on the strong fundamentals of balance sheets & business models.
Graph 2: Top portfolio holdings in UTI Equity Fund
Holding in (%) as on August 31, 2020
(Source: ACE MF)
As of August 31, 2020, UEF held a well-diversified portfolio of around 57 stocks. The fund held its top exposure in names like Bajaj Finance, HDFC Bank, Kotak Mahindra Bank, L&T Infotech, HDFC Ltd., and Infosys together accounting for around 30% of its assets. TCS, Info Edge (India), Astral Poly Technik, and Avenue Supermarts currently figure among the other top holdings in the fund's portfolio. Most of these names have been prominent candidate in the fund's portfolio for over a year now. Notably, the fund has kept itself away from some of the index heavyweights like Reliance Industries, ICICI Bank, HUL, etc.
Stocks like Divi's Laboratories, Info Edge (India), L&T Infotech, Ipca Laboratories, Jubilant FoodWorks, Dr Lal Pathlabs, Torrent Pharma, PI Industries, Berger Paints, etc. contributed immensely to the fund's gains in the last one year.
Around one-fourth of the fund's portfolio is allocated to stocks in the Banking and Financial sector, followed by Infotech, Pharma, Consumption, and Engineering. These top 5 sectors together account for around 64.5% of its assets.Auto, Retail, Healthcare services, and Auto ancillaries are among the other core sectors in the fund's portfolio.
Suitability
UEF has made a mark in terms of returns over the last couple of years. While the rally in large caps has been conducive for the fund's growth, it has managed downsides well during volatile market conditions. Being sector agnostic, the sector weights in the fund's portfolio have been quite distinct from the index and hence the fund's performance may deviate significantly from the benchmark. Moreover, its substantial exposure to mid and small caps can lead to higher volatility. This makes it suitable for investors with high risk appetite and a long term investment horizon of at least 5 years.
Note: This write up is for information purpose and does not constitute any kind of investment advice or a recommendation to Buy / Hold / Sell a fund. Returns mentioned herein are in no way a guarantee or promise of future returns. As an investor, you need to pick the right fund to meet your financial goals. If you are not sure about your risk appetite, do consult your investment consultant/advisor. Mutual Fund Investments are subject to market risks, read all scheme related documents carefully.
This article first appeared on PersonalFN here