Last week if you recall I wrote about, How the Capital Regulator is Proactively Ensuring That Debt Funds Remain Liquid. Looking at the illiquidity issue faced by Franklin Templeton Mutual Fund who decided to wind down six of its debt schemes, the capital market regulator tweaked the percentage holdings of government bonds of certain debt funds' portfolios.
[Read: Franklin Templeton Fiasco: SEBI to Probe for Investment Violations in Wound-up Schemes]
Most of the debt funds invest in debt instruments and securities issued by corporates. Some of these corporates faced a liquidity crisis that was seen from their weak balance sheets. It hurt investors for their wealth was being eroded and hence led to redemption pressure.
Since as a preventive measure of Covid-19 pandemic from further spreading the imposed lockdown has led to liquidity issues in underlying assets and significantly increased redemption pressure posing a risk to debt mutual funds by way of increasing concentration over entities and sectors.
As reported by Bloomberg Quint, India Ratings & Research Pvt. Ltd. said in a report. "The contributions from corporates in liquid funds and credit funds have dried up. The challenging secondary market operating environment, coupled with bouts of redemption pressure could sharply deteriorate the portfolio quality, and that these challenges could be aggravated amid a further deterioration in macro conditions and any idiosyncratic credit event."
It further pointed out that, "All the rated schemes showed a drop in AUM in March, which is a common trend among debt mutual funds because of the fiscal end. The change in AUM from January to April, however, shows that there have been net outflows from most funds, and AUM is yet to stabilise amid the Covid-19 impact."
Graph: Debt Mutual Funds AAUM Falling of the cliff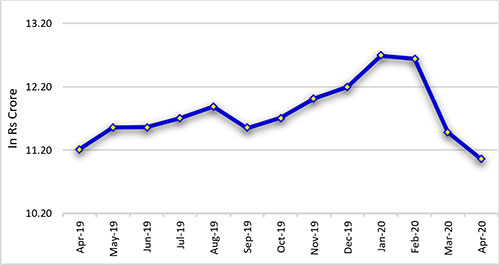 (Source AMFI; PersonalFn Research)
[Read: Here's Why Debt Mutual Funds Turned Unappealing]
Debt mutual funds were approached as a worthy option by risk-averse investors to earn a slightly better return than bank fixed deposits. However, in the bargain not much was known about the level of risk they carried. Investors started presuming that debt fund investments were safe.
But after the biggest default of IL&FS, followed by DHFL, a few of Reliance ADAG companies; investors learnt a lesson the hard way — they realised that debt mutual fund investments aren't risk-free at all and bad investments can erode their wealth.
[Read: Lessons Learnt from the Debt Fund Crisis]
When a series of default happened, the ratings for many other companies were downgraded. The ripples were evident. Debt schemes that compromised on the portfolio characteristics in the hunt for yield eventually witnessed their debt papers turning toxic and investors bore the brunt (suffered losses).
Even certain Liquid Funds that were expected to provide 'safety' and 'liquidity' to investors, took an unwarranted risk by taking exposure to Commercial Papers issued by private issuers to clock better returns. In late 2018, when the IL&FS crisis broke out, several liquid funds took a hit in the range of 0.5% to 8% as the funds had to mark down the company along with its group companies owing to sudden rating downgrades.
[Read: Is Your Liquid Fund Really Safe and Liquid?]
Currently, amidst the COVID-19 crisis — where a financial crisis is brewing owing to the lockdown imposed and the money tap is running thin — the credit risk has amplified. There is a strong likelihood of delay in repayment of principal and interest.
Since April 1, 2020, there have been around 11 downgrades according to a review by India's four main credit agencies: CARE Ratings, Crisis, ICRA, and India Ratings & Research. Ratings of 774 domestic firms have been downgraded during this period and the current quarter could be the worst.
It is possible that debt papers that command 'AAA' rating today may be downgraded in time to come causing a credit risk contagion across the Indian mutual fund industry. And if that happens, it could be a discomforting experience for debt fund managers and investors.
The COVID-19 pandemic has caused dislocations in terms of credit risk and liquidity. Recently, the winding-up decision (citing COVID-19 dislocations as the reason) was a shockwave that rattled the mutual fund industry. It is something that is unheard of and has perplexed many investors and advisors. Anticipating continued liquidity stress to the respective schemes, the fund house thought winding up the schemes was the only viable option to minimize erosion of value.
Similarly, a few other fund houses in their Credit risk funds, Dynamic Bond Fund, Low duration Funds, have decided to mark-down their toxic debt paper investments in the beleaguered DHFL from 75% to 100%.
India Ratings also mentioned frequent refinancing poses systemic challenges and that having concentrated investors could be risky in the near term.
"The lockdown has adversely impacted corporate cash flows and short-term investments and corporates will require a considerable amount of working capital to kick start production and other activities," it said. "In such a scenario, there could be a rush to liquidate existing investments in liquid mutual funds, leading to a further rise in redemption and concurrent challenges."
In conclusion:
However, India Ratings is of the view that "The bright spot is that liquidity in the banking system has remained remarkably high, largely through open market operations and regular infusions through various kinds of repo windows, even if it is not getting converted into meaningful lending."
In my view, one should not invest in schemes that they are not aware of, especially in current times. Safety and liquidity are prime concerns. Remember, "Debt mutual fund investment isn't risk-free at all." Stick to mutual funds where the fund manager doesn't chase returns by taking higher credit risk. Further, assess your risk appetite and investment time horizon while investing in debt funds.
As a thumb rule: Choose mutual fund schemes from fund houses that follow prudent judicious investment processes and stringent risk-management systems.
It's time to follow a conservative approach. Consider only those debt funds that invest at least 80% of their assets in bonds floated by the Government of India and securities issued by public sector companies.
For example, Banking & PSU Debt Funds that hold 85%-90% of its assets in instruments issued by major Banks and PSUs. Likewise, a Dynamic Bond Fund, which invests only in government securities and a few selected PSUs.
Our friends at Quantum Mutual Fund have highlighted the secret behind their debt management strategy, which has helped them provide safety and liquidity to investors when it comes to investing in Quantum funds. Don't Worry, Quantum Liquid Fund always aims for Safety and Liquidity.
Alternatively, if you prefer to keep your capital safe, opt for bank fixed deposits.
This article first appeared on PersonalFN here