After moderate recovery in April, markets turned volatile again in May. Recent relief package/s the government announced to fight the numbing impact of COVID-19 failed to cheer the market, while the extension of the lockdown further raised concerns over economic growth.
However, it is advantageous to stay invested even during an economic slowdown to reap the benefits of revival in demand. A short-term approach to investment tends to be very risky and may not pay off in the long term.
Large & mid cap funds come with the dual advantage of stability of large caps and high growth potential of mid caps which can efficiently aid in long-term appreciation of wealth.
Canara Robeco Emerging Equities Fund (CREEF) is one such large & mid cap fund that endeavors to identify companies which have the potential to become leaders of tomorrow in their respective sectors within the large and midcap space.
Graph 1: Growth of Rs 10,000 if invested in Canara Robeco Emerging Equities Fund 5 years ago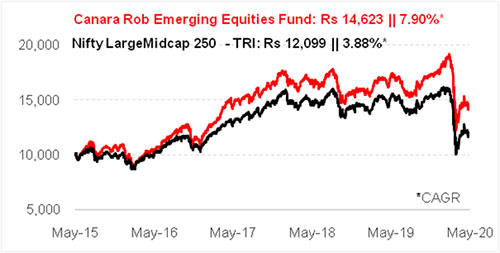 Data as on May 27, 2020
(Source: ACE MF)
CREEF is an aggressively managed large & mid cap fund that has a superior performance track record. Over the last five years, CREEF has generated returns at 7.9% CAGR in comparison to about 3.9% CAGR generated by its benchmark Nifty LargeMidcap 250 – TRI index. The fund has thus outpaced the benchmark by a noticeable margin of around 4 percentage points. Much of the outperformance over the index, in the last 5 years, has been registered during the mid and small cap rally seen in 2016-2017, when its portfolio was biased towards mid and small caps. In the current corrective phase, the fund has managed to restrict the downside reasonably well.
Table: Canara Robeco Emerging Equities Fund's performance vis-a-vis category peers
Returns are point to point and in %, calculated using Direct Plan – Growth option. Those depicted over 1-Yr are compounded annualised.
Data as on May 27, 2020
(Source: ACE MF)
*Please note, this table only represents the best performing funds based solely on past returns and is NOT a recommendation. Mutual Fund investments are subject to market risks. Read all scheme related documents carefully. Past performance is not an indicator for future returns. The percentage returns shown are only for indicative purposes.
CREEF has delivered substantial returns over its benchmark and the category average across various time periods. On a 5-year and 7-year returns basis, the fund has outperformed the benchmark Nifty LargeMidcap 250 – TRI by a CAGR of around 4 to 9 percentage points. Even on a shorter duration of 1 year to 3 years, the fund has been ahead of the benchmark.
Over longer time periods, CREEF easily ranks among the top schemes, and makes the list of prime contenders. Some of the other top contenders during the period are Invesco India Growth Opp Fund, Mirae Asset Emerging Bluechip Fund, and Kotak Equity Opportunities Fund.
In terms of risk, the fund's volatility is among the lowest in the category, whereas its risk-adjusted returns denoted by Sharpe is among the best.
Investment strategy of Canara Robeco Emerging Equities Fund
Categorised as a large & midcap fund, CREEF has a mandate to invest a minimum 35% of its assets in large-caps with a simultaneous investment of at least 35% in mid-caps. The fund currently has a balanced exposure across both large caps and midcaps and holds a well-diversified portfolio of 55 to 65 stocks, with focus on quality, growth, and valuation.
CREEF uses a mix of top-down and bottom-up approaches to pick high growth and quality stocks from the eligible universe of companies in the large and mid-cap space and applies diversification well to manage downside risk. The core focus of the fund is on picking cash flow generating businesses at a reasonable valuation.
Graph 2: Top portfolio holdings in Canara Robeco Emerging Equities Fund
Holding in (%) as on April 30, 2020
(Source: ACE MF)
As on April 30, 2020, CREEF held a well-diversified portfolio of 53 stocks. The top 10 stocks constitute 35% of its assets with HDFC Bank having the highest allocation of 6.1%. Reliance Industries, ICICI Bank, Ipca Laboratories and Atul are some of the other top holdings of the fund. Notably, CREEF has a long tail of about 23 stocks having exposure of less than 1% in each stock.
CREEF was early to judge the potential of mid and small cap stocks like Navin Flourine International, Ipca Laboratories, Atul, Divi's Laboratories, Whirlpool of India, Indraprastha Gas, Gujarat Gas, among others that have turned out to be major contributors to its returns over the last 1 year.
The top 5 sectors in the fund's portfolio currently account for around 63% of its holdings. Finance stocks are the fund's top sectoral bets, followed by Engineering, Consumption, Transportation and Oil & Gas.
Suitability
CREEF makes good use of diversification across stocks, sectors, and market capitalisation to manage risk. This has helped the fund in delivering superior risk-adjusted returns over different time periods as compared to its benchmark and category peers. The fund invests in high conviction companies with a long term view and aims to stay away from herd behaviour, chasing short term profits. CREEF's higher allocation to large and midcaps along with lower levels of exposure to small caps can help it create long-term wealth, albeit at a higher risk. This makes the fund suitable for aggressive investors having high risk appetite and an investment horizon of more than five years.
Note: This write up is for information purpose and does not constitute any kind of investment advice or a recommendation to Buy / Hold / Sell a fund. Returns mentioned herein are in no way a guarantee or promise of future returns. As an investor, you need to pick the right fund to meet your financial goals. If you are not sure about your risk appetite, do consult your investment consultant/advisor. Mutual Fund Investments are subject to market risks, read all scheme related documents carefully.
This article first appeared on PersonalFN here