The impact of this extended lockdown (3.0) on small and medium enterprises could be overwhelming due to their limited ability to absorb economic and financial shocks. As a result, recovery vide earnings will take time even after restrictions are lifted. Stocks of mid and small caps may therefore face selling pressure.
The Finance Minister recently announced a stimulus package to provide support to MSMEs. It remains to be seen if this will provide the support MSMEs have been waiting for.
Nonetheless, investing in quality midcap companies that have a strong balance sheet remains a worthwhile investment proposition provided you have an appetite for high risk and a long term investment horizon. The market crash has provided a high upside potential for many stocks in the segment and a better margin of safety.
Axis Midcap Fund (AMF) is one such fund that focuses on picking quality stocks with high growth potenial.
Graph 1: Growth of Rs 10,000 if invested in Axis Midcap Fund 5 years ago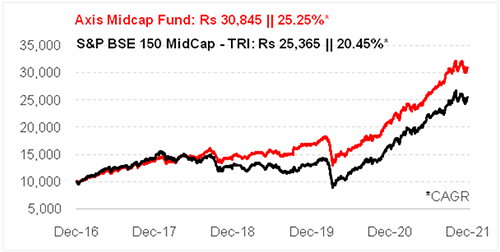 Data as on May 13, 2020
(Source: ACE MF, PersonalFN Research)
An investment offering of a process-driven fund house, AMF focuses on investing in high quality stocks in the mid and higher mid cap segment having potential to grow cash flows over the medium to long term. Though AMF holds a strong long-term performance track record, its performance slipped in CY 2016, where it significantly underperformed the benchmark and many of its category peers. Nevertheless, the fund has recovered well despite the huge correction in the mid-cap space, thus making up for its underperformance. Over the past 5 years, AMF has grown at a CAGR of around 8.7%, as against 3.6% CAGR delivered by its benchmark S&P BSE Mid-Cap – TRI index, thus generating a healthy alpha of over 5 percentage point CAGR compared to the benchmark.
Table: Axis Midcap Fund's performance vis-a-vis category peers
Returns are point to point and in %, calculated using Direct Plan – Growth option. Those depicted over 1-Yr are compounded annualised.
Data as on May 13, 2020
(Source: ACE MF, PersonalFN Research)
*Please note, this table only represents the best performing funds based solely on past returns and is NOT a recommendation. Mutual Fund investments are subject to market risks. Read all scheme related documents carefully. Past performance is not an indicator for future returns. The percentage returns shown are only for indicative purposes.
AMF has shown a noticeable turnaround in performance in the last couple of years. Over the last 1 year, the fund has managed to generate an absolute return of over 1% approximately, as against the negative returns generated by most funds as well as the benchmark. With this, the fund has managed to generate a significant lead over the benchmark and the category peers. Commendably, even in the 3-year and 5-year time periods, the fund has managed to keep a clear lead over its benchmark and the category average.
Invesco India Midcap Fund, DSP Midcap Fund, Tata Midcap Growth Fund, and Kotak Emerging Equity Fund are some of the other top performers during the period.
On risk-return parameters, AMF has encountered much lower volatility when compared to its category peers and the benchmark. The funds superior outperformance over the last couple of years has helped it recover in terms of risk adjusted returns as well. Its risk-adjusted-returns are among the best in the category.
Investment strategy of Axis Midcap Fund
Categorised as a mid cap fund, AMF is mandated to invest a minimum 65% of its assets in mid-cap stocks. It aims to select larger midcap companies which are flexible, innovative, and have high growth potential along with the proven management and liquidity.
The fund also has significant exposure in large caps, while its allocation towards small caps is negligible. AMF does not hesitate to hold high cash balance if required.
Following a combination of top down and bottom up approach of stock picking, AMF invests in a fairly diversified portfolio of about 35-50 stocks, limiting exposure to single stocks within the 5% mark. Through a bottom-up approach to stock picking, the fund focuses on company fundamentals and ignores the broad macro-economic trends. Although AMF follows a buy and hold investment strategy, it is nimble in its approach and does not hesitate to churn a small portion of its portfolio to capture attractive opportunities in the mid cap segment.
Graph 2: Top portfolio holdings in Axis Midcap Fund
Holding in (%) as on April 30, 2020
(Source: ACE MF)
As on April 30, 2020, AMF held a fairly diversified portfolio of 51 stocks. The top-10 stocks accounted for around 36% of its assets. Avenue Supermarts topped the list with an exposure of around 5.3%, followed by IPCA Laboratories, Bata India, PI Industries, and Indraprastha Gas having an allocation of around 3.5% to 5% each respectively.
In terms of sector holdings, AMF's portfolio is majorly exposed to Pharma stocks with an allocation of about 16.4%. The fund's other top exposure is in Retailing, followed by Banking and Finance among other core sectors in the portfolio. These sectors together account for over 42% of its assets.
Suitability
Although AMF is an aggressive growth oriented mid-cap fund, it avoids taking momentum bets and focuses on quality stocks. It seeks to pick high conviction stocks and sectors that have the potential to grow cash flows over the medium to long term. Whereas, its reasonable exposure to high liquid stocks provides the fund an advantage of quick liquidation of the portfolio in case of extreme conditions.
AMF's current fund manager, Mr Shreyash Devalkar, has done well to turnaround the fortunes of the fund. However, the fund's aggressive mandate makes it prone to high volatility. This makes the fund suitable for investors with high risk appetite and a long term investment horizon.
Note:   This write up is for information purpose and does not constitute any kind of investment advice or a recommendation to Buy / Hold / Sell a fund. Returns mentioned herein are in no way a guarantee or promise of future returns. As an investor, you need to pick the right fund to meet your financial goals. If you are not sure about your risk appetite, do consult your investment consultant/advisor. Mutual Fund Investments are subject to market risks, read all scheme related documents carefully.
This article first appeared on PersonalFN here