Gold has indeed proven itself as an effective hedge against any downside risk. It has seen a sharp rise in the price rally since the first case of Novel Coronavirus was reported in November 2019.
In the beginning of March 2020, gold prices fell marginally, however it is on the upswing and has retained its level above Rs 40,000 per 10 grams.
Gold started to ascend last year when the US and China trade talks began and escalated in trade war, followed by similar trade wars of the US with other nations. These events have proved to be favourable for the momentum of the price of Gold.
Graph: Gold's rising uptrend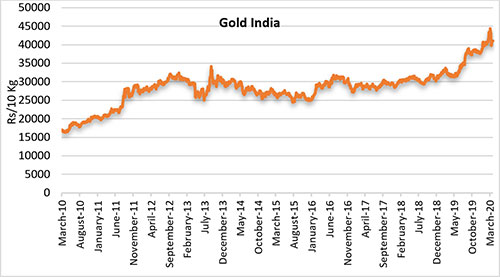 Data as on March 31, 2020
(Source: PersonalFN Research)
It played its role of a crucial hedge and store of value when other asset classes had witnessed high volatility and posted marginal returns. Some of the other factors that have supported gold are…
The outbreak of COVID-19 with no evident containment yet
Economic uncertainty and fears of a virus-led global recession
Global GDP growth revised downwards and for across regions
Easy monetary policy action (of reduction in interest rates and stimulus packages) and an accommodative stance adopted by the central banks across the world to support growth
A crash in the oil markets due to lack of demand and excess supply with storage problems
A record-high global debt-to-GDP of nearly US$ 255 trillion (over 322% of global GDP) – 40 percentage points higher than at the onset of 2008 global financial crisis according to the Institute of International Finance (IIF), as the world is fighting the COVID-19 pandemic
The US Presidential elections later this year, in November 2020
Increased stock market volatility
The potential risk to the inflation trajectory.
[Read: Coronavirus Has No Antidote. Your Bad Investments Could Have.]
Besides, the lockdown brought upon due to COVID-19 pandemic is going to hurt the economy for a couple of quarters badly which will amplify the credit risk. The economic activity will slow grind to full capacity, prompting furloughs and pay cuts, and job losses across sectors, which will affect the credit line as the number of defaulters will rise because cash strapping will be seen.
Recognising the risk stemming from the bottom hit economy, where the growth projections by the IMF are almost 1.9% due to the CoVID-19, the NPAs of banks and NBFCs are expected to increase.
[Read: How the COVID-19 Extended Lockdown Has Made Investments in 'Banking Funds' Very Risky]
Until the COVID-19 pandemic is contained and economic uncertainty prevails, the spotlight will continue to be on gold owing to the financial uncertainty it brings along. Even the IMF Global Financial Stability report highlights an increase in the level of risk among multiple global metrics and, therefore, the importance of owning gold in one's portfolio.
Hence, in my view, in the current situation consider allocating some portion of your investment portfolio to gold and its equivalents. This year buying gold in a physical form from your preferred jeweller or gold merchant may not be possible amidst the COVID-19 extended lockdown. But you can always consider Gold Exchange Traded Funds, Gold Saving Funds, Sovereign Gold Bonds, and/or Digital Gold, which are smart and unconventional ways of investing in gold.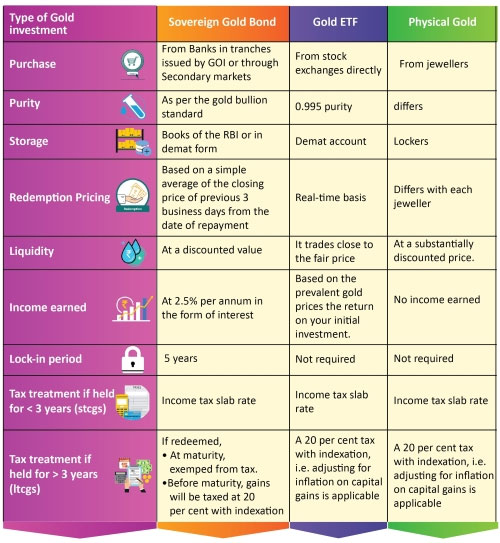 (Illustration purpose only)
Recently the Government of India, in consultation with the Reserve Bank of India, decided to issue Sovereign Gold Bonds. The Sovereign Gold Bonds will be issued in six tranches from April 2020 to September 2020 as per the calendar specified below:
Table: Proposed Calender of Sovereign Gold Bonds Subcription
| | | | |
| --- | --- | --- | --- |
| S. No. | Tranche | Date of Subscription | Date of Issuance |
| 1. | 2020-21 Series I | April 20-24, 2020 | April 28, 2020 |
| 2. | 2020-21 Series II | May 11-15, 2020 | May 19, 2020 |
| 3. | 2020-21 Series III | June 08-12, 2020 | June 16, 2020 |
| 4. | 2020-21 Series IV | July 06-10, 2020 | July 14, 2020 |
| 5. | 2020-21 Series V | August 03-07, 2020 | August 11, 2020 |
| 6. | 2020-21 Series VI | Aug. 31-Sept.04, 2020 | September 08, 2020 |
(Source: Reserve bank of India)
Each of the tranche is offered for a limited subscription period, having a maturity tenure of 8 years and a lock-in period of 5 years
With an initial investment amount of Rs 20,000, resident individuals, Hindu Undivided Families (HUFs), Trusts, Universities and Charitable Institutions can subscribe to SGBs. The application can be also made by the guardian on behalf of the minor. One can purchase units from the secondary market as well.
The issue price of the SGB will be Rs 50 per gram less than the nominal value when applied online and the payment against the application is made through digital mode.
On maturity, the Gold Bonds shall be redeemed in Indian Rupees and the redemption price shall be based on a simple average of the closing price of gold of 999 purity of previous 3 business days from the date of repayment, published by the India Bullion and Jewellers Association Limited.
In order to encourage passive but direct gold investment, as an alternative to purchasing physical gold, Modi led Government sanctioned a Sovereign Gold Bond Scheme in November 2015. Under this scheme, investors have to pay the issue price in cash and the bonds will be redeemed in cash on maturity. The Bond is issued by the Reserve Bank on behalf of Government of India.
With the Sovereign Gold Bond Scheme, the risks and costs of physical storage are eliminated. Plus, it is free from issues like the costs of making charges and purity, as in the case of gold in jewellery form. But these bonds are held in the books of the RBI, or in demat form to eliminate even the risk of loss of scrip, etc.
Sovereign Gold Bonds will generate market returns linked to the price of gold, so there may be a risk of capital loss if the market price of gold declines. Moreover, these bonds will provide interest income at the rate of 2.50 per cent (fixed rate) per annum on the amount of initial investment to investors and will be redeemable.
The minimum investment allowed is 1 gram, while the maximum buying limit is a subscription of 4 kg for individuals, 4 kg for Hindu Undivided Family (HUF), and 20 kg for trusts and similar entities notified by the government from time to time per fiscal year (April – March).
These bonds are sold through offices or branches of Nationalised Banks, Scheduled Private Banks, Scheduled Foreign Banks, designated Post Offices, Stock Holding Corporation of India Ltd. (SHCIL), and the authorised stock exchanges, either directly or through their agents.
Do note, that the interest on the bonds is taxed as per the provisions of the Income-tax Act, 1961. If you hold the SGB till maturity the capital gains tax on redemption of SGB is exempted. But if you sold the bond in the secondary market after three years, long term capital gains (LTCGs) tax is applicable and it will be taxed at 20 per cent with indexation. And if sold before three years, a short-term capital gains (STCGs) tax will be applicable according to the income tax slab.
What should the investors do?
Defeating the Coronavirus and surviving is everyone's core focus and having liquidity, those who have an adequate contingency fund are looking for investments.
Equity and debt markets are yet to see any signs of revival despite the stimulating relief measures provided to uplift the slowing of economy but investing in gold can prove to be worthy for your portfolio.
[Read: What Could Be the Potential Impact of a Lockdown on Your Mutual Fund Portfolio? Know Here…]
Even the bond prices were at all-time lows, which are inversely proportional to gold as well. In my view allocate at least 10-15% of your entire investment portfolio to gold and hold it with a long-term investment horizon.
Remember gold offers an effective hedge during global uncertainty and a shield against inflation. Most importantly in your portfolio, it serves as a diversifier.
This article first appeared on PersonalFN here