Industries across sectors have been reeling under the impact of the covid-19 pandemic. Some sectors could be more vulnerable to others and may find it more difficult to recover once the situation is normal.
If your mutual fund portfolio has high concentration to such sectors, it may have a negative impact on your overall returns. Likewise, your portfolio gains could be capped if the fund has low exposure to sectors expected to be least affected by the crisis.
However, since focused funds bet on high conviction ideas within various sectors across market capitalisation and take concentrated exposure in them, they may be well placed to withstand the volatility and benefit from the recovery.
SBI Focused Equity Fund (SFEF) is one such focused fund that has rewarded investors in the past through its high conviction bets.
Graph 1: Growth of Rs 10,000 if invested in SBI Focused Equity Fund 5 years ago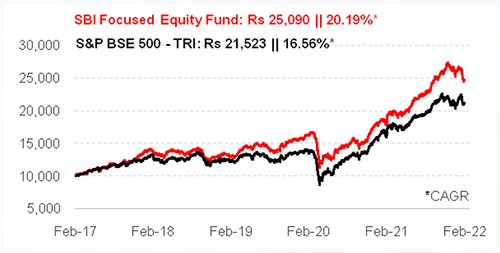 Data as on April 15, 2020
(Source: ACE MF)
SFEF has rewarded investors in the past by generating superior returns over the benchmark S&P BSE 500 – TRI across various market cycles. If you had invested Rs 10,000 in SFEF 5 years ago on April 15, 2015, it would have grown to Rs 13,957 now (as calculated on April 15, 2020). This translates in compounded annualised growth rate of 6.9%. In comparison, a simultaneous investment of Rs 10,000 in its benchmark S&P BSE 500 – TRI would now be worth 10,867, a CAGR of 1.7%. Notably, most of the fund's alpha was generated during the large cap rally of 2019 and mid and small cap rally of 2017. The fund has performed well under its fund manager R Srinivasan who has been at the helm of this scheme since May 2009.
Table: SBI Focused Equity Fund's performance vis-a-vis category peers
Returns are on a rolling basis and in %, calculated using Direct Plan – Growth option. Those depicted over 1-Yr are compounded annualised.
Data as on April 15, 2020
(Source: ACE MF)
*Please note, this table only represents the best performing funds based solely on past returns and is NOT a recommendation. Mutual Fund investments are subject to market risks. Read all scheme related documents carefully. Past performance is not an indicator for future returns. The percentage returns shown are only for indicative purposes.
SFEF's superior return in the past couple of years has improved its overall performance across rolling time periods. The fund has outpaced the benchmark and category average with a noticeable margin across time frames.
As a result, the fund stands among the category toppers on 1-year to 7-year rolling return basis. Some of the other top performers in the category include Axis Focused 25 Fund, Sundaram Select Focus, and IIFL Focused Equity Fund.
This superior performance has come at relatively lower volatility. Moreover, its risk-adjusted returns is among the best in the category.
Investment strategy of SBI Focused Equity Fund
Being a focused fund, SBI Focused Equity Fund is mandated to limit the number of stocks in the portfolio to maximum 30. It can invest minimum 65% of its assets in equity and equity related instruments, while it has flexibility to invest up to 35% of its assets in debt and money market instruments. However, the fund has avoided investing in debt and money market instruments.
SFEF follows a multicap strategy with a large cap bias. As on March 31, 2020, the fund invested 55% of its assets in largecaps and around 30% in midcaps and smallcaps. The fund manager follows bottom-up stock picking approach to take high conviction bets in companies across market capitalisation and sectors.
Graph 2: Top portfolio holdings in SBI Focused Equity Fund
Holding in (%) as on March 31, 2020
(Source: ACE MF)
SFEF held a compact portfolio of 26 stocks as on March 31, 2020 diversified across various sectors. The top 10 stocks constitute 60.8% of its portfolio and include majorly some of the known large cap names like SBI, HDFC Bank, P&G Hygiene & Healthcare, Divi's laboratories, Bharti Airtel and Bajaj Finance. In the last one year it has increased its exposure to Alphabet Inc, an overseas equity, which now forms part of its top portfolio holding.
Stocks like Relaxo Footwears, Bharti Airtel, Fine Organic Industries, and Divi's Laboratories contributed the most to the fund's gain in the last one year. On the other hand, Bharat Heavy Electricals, HDFC Bank, SBI, Emami, Hatsun Agro, Bajaj Finance, etc. dragged down its gains.
In terms of sector, the fund has a high exposure to Banking and Finance. It also holds significant exposure in Consumption, Consumer Durables, Pharma, and Telecom, among others
Suitability
SFEF has rewarded investors well in the past with superior risk-adjusted returns and has the potential to continue its winning performance in the future as well. While focused funds take utmost care to focus on high conviction ideas having high growth potential, if the fund manager's bets do not pay off as expected, investors may incur heavy losses due to high concentration of the portfolio. Therefore, Focused funds are a high-risk high-return investment. This makes SFEF suitable for aggressive investors with a long investment horizon.
Note:   This write up is for information purpose and does not constitute any kind of investment advice or a recommendation to Buy / Hold / Sell a fund. Returns mentioned herein are in no way a guarantee or promise of future returns. As an investor, you need to pick the right fund to meet your financial goals. If you are not sure about your risk appetite, do consult your investment consultant/advisor. Mutual Fund Investments are subject to market risks, read all scheme related documents carefully.
This article first appeared on PersonalFN here