The impact of coronavirus outbreak on the GDP could be severe if things do not return to normal soon. India Inc. could therefore be staring at weak earnings growth in the coming quarters.
Few days back my colleague and Editor of Daily Wealth Letter, Rounaq, explained how this could impact your mutual fund portfolio. As he had mentioned, mid and small-cap focused funds are likely to be affected the most, given the vulnerability of smaller companies to deal with an unprecedented situation such as one we are facing today.
Large-cap funds, on the other hand, maybe a little more stable. But only a few large cap funds have the potential to reward its investors with healthy returns over the long term.
Axis Bluechip Fund (ABF) is one such large cap fund that has a decent long term performance track record.
Graph 1: Growth of Rs 10,000 if invested in Axis Bluechip Fund 5 years ago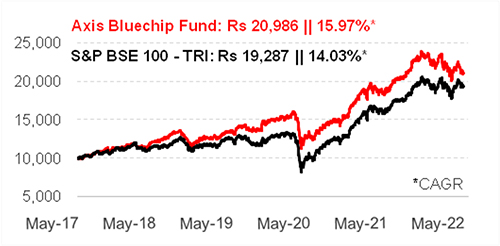 Data as on March 31, 2020
(Source: ACE MF)
ABF exhibited extraordinary performance in the last 5 years, except in the year 2016. If you had invested Rs 10,000 in ABF 5 years ago on March 31, 2015, it would have appreciated to 14,157 at a compounded annualised growth rate of 7.2%. In comparison a simultaneous investment of Rs 10,000 in its benchmark Nifty 50 – TRI would now be valued at just 10,807, a CAGR of 1.6%. ABF has rewarded investors with superior returns in the past across bull and bear phases and has the potential to do so in the future. Notably, most of its outperformance has come in the last 3 years, under its current fund manager – Mr Shreyash Devalkar who has done a phenomenal job to turnaround the fortune of the fund.
Table: Axis Bluechip Fund's performance vis-a-vis category peers
Returns are on a rolling basis and in %, calculated using Direct Plan – Growth option. Those depicted over 1-Yr are compounded annualised.
Data as on March 31, 2020
(Source: ACE MF)
*Please note, this table only represents the best performing funds based solely on past returns and is NOT a recommendation. Mutual Fund investments are subject to market risks. Read all scheme related documents carefully. Past performance is not an indicator for future returns. The percentage returns shown are only for indicative purposes.
ABF outpaced the benchmark and most category peers across rolling time period with noticeable margin. In the last 1-year and 2-year rolling period when many of its peers struggled to catch up with the benchmark, ABF delivered an alpha of 6-7 percentage points.
ABF stood as a category topper across rolling period. Some other top performers include Mirae Asset Large Cap Fund and Canara Robeco Bluechip Equity Fund.
ABF managed this superior feat at a relatively lower risk as compared to the benchmark and category peers. Despite this, its risk-adjusted returns are the best in the category.
Investment strategy of Axis Bluechip Fund
Categorised as a large cap fund, ABF is mandated to hold minimum 80% of its assets in equity and equity related instruments of large cap companies. Accordingly, 80-90% of its assets are allocated towards large caps. However, the fund maintains almost zero exposure to mid and small-caps.
The fund manager targets to outperform the benchmark while undertaking risk that is lower than the benchmark. The fund selects stocks based on their ability to grow earnings on a sustainable basis from a medium term perspective.
ABF adopts pure bottom up stock picking approach focusing on fundamentals. The stocks are carefully selected to include companies having robust business models and enjoying sustainable competitive advantage as compared to their competitors.
Graph 2: Top portfolio holdings in Axis Bluechip Fund
Holding in (%) as on February 29, 2020
(Source: ACE MF)
Unlike its peers that hold 45-50 stocks, ABF holds a compact portfolio of just around 20-25 stocks. As on February 29, 2020, ABF held 24 stocks in its portfolio with the top 10 stocks constituting around 59% of its portfolio. Top banking and finance names like Bajaj Finance, ICICI Bank, Kotak Mahindra Bank, and HDFC Bank dominate the fund's portfolio with an allocation in the range of 7% to 8% each.
Stocks like Bajaj Finance, Kotak Mahindra Bank, Avenue Supermarts, ICICI Bank, Nestle India, HDFC Bank, and Bajaj Finserv contributed the most to the fund's gain in the last one year with a total weighted return of around 16%.
Financials clearly dominate the fund's portfolio with a total exposure of 41%. This is followed by Consumption and Infotech adding another 22% to its portfolio allocation. The remaining portfolio is diversified across Retailing, Telecom Services, Petroleum Products, Auto, Cement, and Pharma.
Suitability
ABF has performed exceptionally well, especially in the last couple of years, and has rewarded investors with superior risk-adjusted returns. Large caps are better poised to handle market uncertainties and volatility. However, the concentrated nature of the fund may result in high volatility if any of the sectors come under pressure. This makes the fund suitable for investors looking for long term wealth creation at moderately high risk.
Note: This write up is for information purpose and does not constitute any kind of investment advice or a recommendation to Buy / Hold / Sell a fund. Returns mentioned herein are in no way a guarantee or promise of future returns. As an investor, you need to pick the right fund to meet your financial goals. If you are not sure about your risk appetite, do consult your investment consultant/advisor. Mutual Fund Investments are subject to market risks, read all scheme related documents carefully.
This article first appeared on PersonalFN here