The equity market is surrounded by troubles from all sides and may slowly slip towards a bear phase. At a time when concerns regarding economic growth stay unabated, the pandemic of coronavirus has aggravated the pain.
During such turbulent and uncertain times I know that it is difficult to watch the value of your investment erode with every passing day. But since the situation is beyond our control what retail investors like you and me do is to wait and watch, and stick to well diversified and fundamentally strong mutual funds that can contain the downside and stage a smart recovery when the problems subside.
Kotak Standard Multicap Fund (KSMF) is one such strong contender in the multicap category with a track record of over a decade. Its corpus of Rs 29,460 crore is the highest in the category. The fund is managed by Mr Harsha Upadhyaya since July 2012.
Graph 1: Growth of Rs 10,000 if invested in Kotak Standard Multicap Fund 5 years ago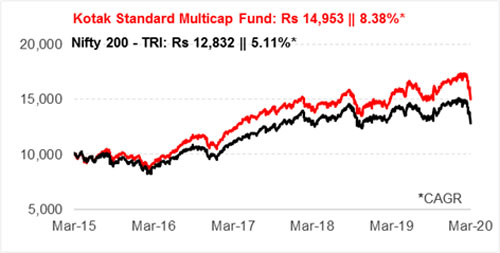 Data as on March 11, 2020
(Source: ACE MF)
The impact of the ongoing market crash is clearly visible on the performance of the KSMF. Its overall growth rate in the last five years has come down to 8.4%, compounded annualised. Yet the fund stands ahead of its benchmark Nifty 200 – TRI with an alpha of over 3 percentage points. If you had invested Rs 10,000 in KSMF, it would have appreciated to Rs 14,953; while a simultaneous investment of Rs 10,000 in its benchmark would now be worth Rs 12,832, a CAGR of 5.1%. The fund has done well in most market phases and cycles in the past and continues to do so in the current corrective phase.

Table: Kotak Standard Multicap Fund's performance vis-à-vis category peers
Returns are on a rolling basis and in %, calculated using Direct Plan – Growth option. Those depicted over 1-Yr are compounded annualised.
Data as on March 11, 2020
(Source: ACE MF)
*Please note, this table only represents the best performing funds based solely on past returns and is NOT a recommendation. Mutual Fund investments are subject to market risks. Read all scheme related documents carefully. Past performance is not an indicator for future returns. The percentage returns shown are only for indicative purposes.
KSMF outperformed the benchmark and category average across rolling periods. Over the longer time horizon of a 5-year rolling period, the fund outscored the benchmark and category average by over 4 percentage points.
In fact, KSMF stands among the top performers across rolling time frames. Some of the other top performers across time frames include Canara Robeco Equity Diversified Fund and Parag Parikh Long Term Equity Fund.
KSMF has impressed on the risk-return front as well. Its volatility of 12.37 is lower than the benchmark and category average, though its risk-adjusted return as denoted by Sharpe is higher than the benchmark and many of its peers.
Investment strategy
Categorised as multicap fund, KSMF has the flexibility to invest across market caps. However, the fund has a large cap bias where it allocates around 70% of its assets with a significant exposure of about 15-20% in mid caps. The fund holds a marginal allocation of 1-2% in small caps, while the balance is held in the form cash.
KSMF strives to focus on the most promising sectors in the ongoing market cycle across market capitalisation and takes concentrated bets in those sectors. Selection of sectors is primarily driven by the growth prospects and valuations of the businesses over medium to long term. Stocks in the portfolio are selected using the bottom-up approach within selected sectors.
Graph 2: Top portfolio holdings in Kotak Standard Multicap Fund
Holding (in %) as on February 29, 2020
(Source: ACE MF)
While KSMF takes concentrated sector bets, the portfolio is fairly diversified at the stock level. As on February 29, 2020, the fund held 55 stocks in its portfolio. The top 10 stocks constitute about 43% of its assets. Prominent large cap names like ICICI Bank, Reliance Industries, HDFC Bank, Axis Bank, and L&T, among others form part of the fund's top holding.
Among its holdings, ICICI Bank, AU Small Finance Bank, Bajaj Finance, Indraprastha Gas, and HDFC Bank, were some of the stocks that contributed to most the fund's gains in the last one year. Meanwhile, RBL Bank, GAIL (India), Mahindra & Mahindra, L&T, etc. eroded some of its gains.
Sector wise, the fund has the highest exposure to Financials, which includes allocation to Banks at 22.6% and Finance at 10.9%. Cement, Consumption, Engineering, Petroleum Products, Infotech, Oil & Gas, Auto ancillaries, etc are other sectors which form part of the fund's core portfolio.
Suitability of Kotak Standard Multicap Fund
KSMF has rewarded its investors well in the past with superior risk-adjusted returns and has the ability to continue to do so going forward due to its smart sector and stock selection strategy. While the fund invests in a sizeable portfolio of stocks for diversification, it takes concentrated bets at the sector level. This can make it prone to risk if any of these sectors come under pressure. Lastly, the large size of the fund may become a hurdle in switching focus instantly across sectors. This makes KSMF suitable for aggressive investors with an investment horizon of 5 years or more.
Note: This write up is for information purpose and does not constitute any kind of investment advice or a recommendation to Buy / Hold / Sell a fund. Returns mentioned herein are in no way a guarantee or promise of future returns. As an investor, you need to pick the right fund to meet your financial goals. If you are not sure about your risk appetite, do consult your investment consultant/advisor. Mutual Fund Investments are subject to market risks, read all scheme related documents carefully.
This article first appeared on PersonalFN here