Large caps have had a dream run in the last couple of years, whereas mid and small caps felt the weight of economic slowdown. But now it seems even large caps will find it difficult to escape the downfall as the coronavirus endemic tightens its grip.
The virus which has been spreading rapidly all over the world has induced fear among the investors on concerns regarding its effect on the global growth. This was one of the major contributors to a 7% decline caused in the frontline index, S&P BSE Sensex, since the beginning of the year.
Since various mutual funds have significant exposure to bluechips, I was curious to assess the impact of falling prices in large caps on these funds. I decided to start with HDFC Top 100 Fund, a popular name in the large cap funds category.
HDFC Top 100 Fund is an over-two-decade-old fund currently managing a corpus of 18,265 crore, one of the highest in the category. Ace fund manager Mr Prashant Jain has been managing the scheme since inception.
Graph 1: Growth of Rs 10,000 if invested in HDFC Top 100 Fund 5 years ago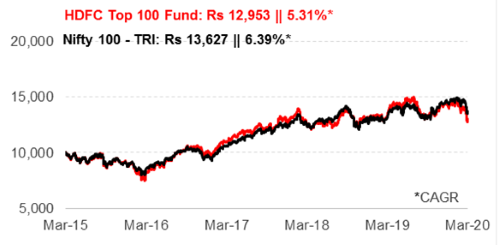 Data as on March 04, 2020
(Source: ACE MF)
My last detailed analysis of HDFC Top 100 Fund back in July 2019 showed the fund's performance nearly in line with the benchmark. Now more than six months later the fund's five year returns slightly trails the benchmark. If you had invested Rs 10,000 in HDFC Top 100 Fund five years back on March 04, 2020 it would now be worth Rs 12,953, growing at a compounded annualised rate of 5.3%. In comparison, a simultaneous investment of Rs 10,000 in its benchmark Nifty 100 – TRI would now be worth Rs 13,627, a CAGR of 6.4%. Though the fund showcased decent performance until a few years back, the fund found it difficult to catch up with the benchmark during the recent corrective phase, causing deterioration in its overall returns.
Table: HDFC Top 100 Fund's performance vis-a-vis category peers
Returns are on a rolling basis and in %, calculated using Direct Plan – Growth option. Those depicted over 1-Yr are compounded annualised.
Data as on March 04, 2020
(Source: ACE MF)
*Please note, this table only represents the best performing funds based solely on past returns and is NOT a recommendation. Mutual Fund investments are subject to market risks. Read all scheme related documents carefully. Past performance is not an indicator for future returns. The percentage returns shown are only for indicative purposes.
HDFC Top 100 Fund generated returns nearly in line with the benchmark on 3-year and 5-year rolling return basis. Though the fund trailed the benchmark on the 2-year rolling period, it outperformed the index over the short time horizon of the last 1-year rolling period.
While the fund trails the category toppers with a noticeable margin, it stands ahead of many peers and has delivered above average returns. Some of the top performers in the category include Axis Bluechip Fund, Mirae Asset Large Cap Fund, and Canara Robeco Bluechip Equity Fund.
In terms of risk-return profile, the fund's volatility has been higher than the benchmark and most peers. The fund's risk-adjusted returns as denoted by Sharpe ratio are lower than the benchmark and many prominent funds in the category, though better than the category average.
Investment strategy
Categorised as a large cap fund, HDFC Top 100 Fund is mandated to invest minimum 80% of its assets in equity and equity related instruments of large cap companies. It can invest up to 20% of its assets in other equity instruments as well as debt and money market instruments. The fund aims to maintain a diversified portfolio across key sectors and economic variables.
The fund manager seeks to invest in higher quality, competitive, sustainable businesses by primarily restricting the equity portfolio to large caps; this is intended to reduce risks while maintaining steady growth. He strongly believes in his conviction, even if it results in short term underperformance.
Over the past 1 year, the fund invested on an average 90% in large caps and around 8% in mid caps. It had no exposure in small caps; the remaining assets were held in cash and equivalents. Notably, the fund has slightly reduced its exposure in mid caps in the last one year, while that of large caps has been increased.
Graph 2: Top portfolio holdings in HDFC Top 100 Fund
Holding (in %) as on January 31, 2020
(Source: ACE MF)
HDFC Top 100 holds a fairly-diversified portfolio of around 50 stocks. Index heavyweights like ICICI Bank, HDFC Bank, SBI, Infosys, Reliance Industries, L&T, etc., form a major part of the fund's portfolio with allocation of around 6-9% each. Notably, the top 10 stocks together constitute close to 60% of its assets. Most of the stocks in the funds's portfolio have been held for a year or more now.
ICICI Bank, HDFC Bank, SBI, Reliance Indsutries, etc. contributed the most to the fund's gain in the last year. However, stocks like Aurobindo Pharma, ITC, Coal India, Vedanta, GAIL (India), etc. eroded some of its gains.
Sector wise, the fund has a high exposure of 31.8% to Banking, while sensitive sectors such as Infotech, Petroleum products and Engineering are the next top bets. The fund also has substantial holdings in Power, Finance, Consumption, Pharma, Minerals, and so on.
Suitability of HDFC Top 100 Fund
Though HDFC Top 100 Fund has been under pressure for quite some time now, it has the potential to reward investors over the long term. The fund holds a diversified portfolio of stocks with a disciplined buy and hold strategy and has an able fund manager at the helm. However, its concentrated bets towards few selected sectors could prove risky if any of these sectors come under pressure. This makes it suitable for investors with moderately high risk appetite and investment horizon of at least 5 years.
Note: This write up is for information purpose and does not constitute any kind of investment advice or a recommendation to Buy / Hold / Sell a fund. Returns mentioned herein are in no way a guarantee or promise of future returns. As an investor, you need to pick the right fund to meet your financial goals. If you are not sure about your risk appetite, do consult your investment consultant/advisor. Mutual Fund Investments are subject to market risks, read all scheme related documents carefully.
This article first appeared on PersonalFN here