In India, traditionally and culturally, gold has always been looked at as a mark of eternal wealth and carries high emotional value as it is passed down family generations and strengthens bonds; making India the second-largest consumer of gold.
In fact, Gold is one of the oldest, most essential asset that is treated differently because it is…

Highly liquid asset
Can deliver better long-term, risk-adjusted returns
An effective diversifier than other commodities
Outperforms in low inflation periods
Gold has lower volatility
Besides it's unique properties and versatility make the metal indispensable in engineering and electronics, in terms of application and usage besides jewellery consumptions and gold investment as well, approximately 75% of investors in India trust gold.
Gold as an asset has a negative correlation with other assets during risk-off periods, protecting the investors' capital against tail risks and other events that have an adverse impact on capital or wealth.
Now steering clear of 2019, the New Year 2020 sets into the horizon and our lives, let's have a rundown on how the most popular asset class, Gold, has performed and its way forward…
Gold has performed well in the past year, but only in November 2019, the precious yellow metal witnessed some correction after the festive period of Diwali. The domestic gold price declined by 2% in November, ending the month 20% higher than the end of 2018.
In the last year, there have been instances on the global front and at the domestic level that has surged the gold demand…
Most of the year saw Rupee depreciation against the US dollar.
A slowdown in global growth has pushed the economy in a recessionary mode due to economic and geopolitical risks combined.
Many central banks including the Federal Reserve and European Central Bank – the highest level since the global financial crisis – started cutting rates, expanding or implementing quantitative (or quasi-quantitative) easing and, in some instances, doing both to sustain economic growth.
Central banks from the emerging markets including India and China has sensed the need for quantitative easing, and these countries have therefore increased gold holdings as rate cuts didn't help to reinvigorate the global economy. And even the Bank of Japan is expected to make policy more accommodative.
The price of competing assets, such as bonds (through interest rates), currencies and other assets, does influence investors' attitude towards gold.
Unseasonal rainfall delayed harvest and wreckage to crop produce weighed on demand, particularly from the rural India where agriculture is the main source of livelihood and accounts for nearly two-thirds India's gold demand.
Rising retail inflation due to higher food prices
Spat between the US and China over trade reforms.
Trade war tensions between the US and other economies.
The geopolitical tensions between the US and Iran.
Rising crude oil prices.
Market downturns, as investors continuously reassessed their expectations based on new information.
Continued uncertainty surrounding Brexit timing and implications.
During these times, however, market participants tried to safeguard their capital against extreme losses and choose assets like gold. Due to which, global demand in gold increased, the prices surged and consumer demand in India declined, particularly from the rural India (where agriculture is the main source of livelihood and accounts for nearly two-thirds India's gold demand)
Furthermore, recognising the risk involved, most of the central banks globally have purchased gold as part of reserve management for its ability to be the most sought-after safe haven or store of value in times of economic uncertainties.

Graph 1: How are the top-10 countries stacking up gold?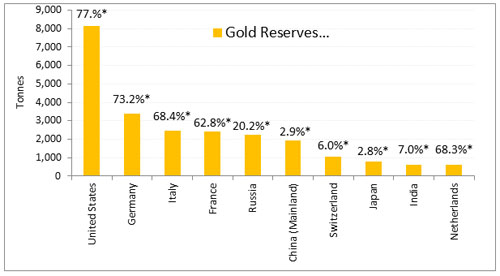 Data as of December 2019
(Source: World Gold council)
Plus, Indian gold imports totalled to 62.3 tonnes in November 2019 – 11% lower y-o-y, but 63% higher m-o-m

Graph 2: Monthly gold imports have grown over a year.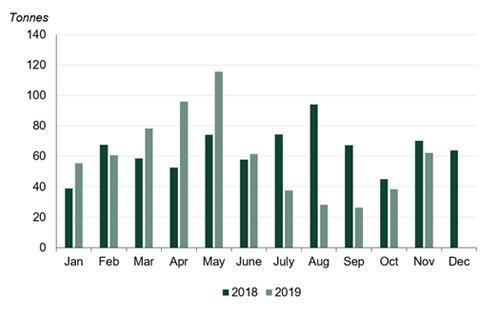 Data was pooled from Infodrive India; Ministry of Commerce & Industry Government of India
(Source: World Gold Council)
In many parts of the world as well, gold ETFs witnessed a positive participation. The World Gold Council (WGC) data shows that global gold-backed ETFs reported a net outflow of 30.1t (US$ 1,250 million) in November 2019 after a reaching record high in the previous month. Gold-backed ETFs lost 1% of holdings in November following five months of strong inflows. But on a YTD basis, gold-backed inflows in 2019 remain a large driver of gold demand this year as seen below. 
Table: How is the world approaching Gold ETFs?
| | | | | |
| --- | --- | --- | --- | --- |
| Region Name | Total AUM (bn) | Holdings (tonnes) | Flows (US$mn) | Flows (% AUM) |
| North America | 67.6 | 205.9 | 10,096.3 | 14.93% |
| Europe | 61.3 | 171.4 | 8,118.3 | 13.24% |
| Asia | 3.8 | 1.8 | 174.5 | 4.57% |
| Other | 1.8 | 5.8 | 291.0 | 16.07% |
| Total | 134.5 | 384.9 | 18,680.1 | 13.89% |
YTD data as of December 2019
(Source: World Gold Council)
The WGC is of the view that the positive catalysts will remain going forward as well –particularly due to:
Apprehensions of slower global growth that continue to plague the overall economy, in combination with low interest rates to support elevated gold demand.
The net gold purchases by central banks as part of reserve management will likely remain robust even if they are lower than the record highs seen in recent quarters
Momentum and speculative positioning may keep gold price volatility high
Prevalent Gold price volatility and hovering expectations of weaker economic growth may result in softer consumer demand near term
But going ahead structural economic reforms in India and China will support demand in the long term
In my view, amidst the heightened global uncertainty and headwinds at play, gold will continue to play its role of an effective portfolio diversifier, a store of value during economic uncertainty, safe haven, and a shield against inflation in the long run.
Currently, the elevated gold prices of the long-term uptrend exhibited by the precious yellow, invites attention and highlights the importance of owning gold in the portfolio with a longer investment horizon. 
Graph 3: Long term sheen of Gold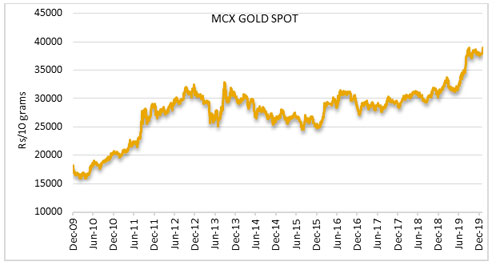 Data as on Jan 1, 2020
(Source: ACE MF)

Watch this video: Can Gold Make Money with the World Sleepwalking into a Global Crisis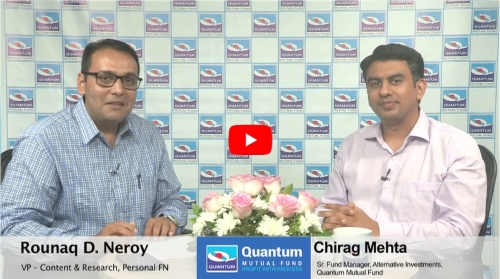 Allocating at least 5-10% of your entire investment portfolio to gold and holding it with a long-term investment horizon will prove to be sensible and a smart investment strategy.
But buy gold the smart way –in a paper form, through Gold Exchange Traded Funds (ETFs) or Gold savings funds, particularly for investment purpose.
So, buy gold strategically and be a smart investor.
This article first appeared on PersonalFN here