Equity funds have gained popularity in the recent years as it holds potential to generate higher returns over long term. This makes equity funds an effective tool for long term financial goals such as retirement, children's future, etc.
While most equity funds hold between 50-100 stocks to achieve optimal diversification, the benefits of diversification can also be achieved by focusing investment in a high conviction portfolio of 20-30 stocks.
Axis Focused 25 Fund (AF25F) is one such focused fund that seeks to generate capital appreciation by investing in a concentrated portfolio of up to 25 companies.
Launched in June 2012, the fund's asset size of Rs 8,891 crore is among the largest in the focused fund category. The scheme is managed by Mr Jinesh Gopani, Head of Equities at Axis AMC, since June 2016.
Graph 1: Growth of Rs 10,000 if invested in Axis Focused 25 Fund 5 years ago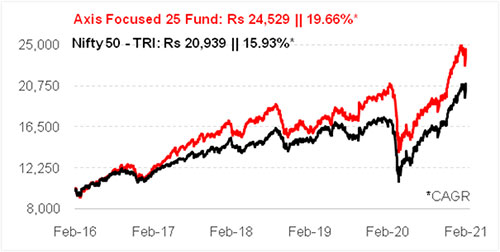 Data as on December 31, 2019
(Source: ACE MF)
Axis Focused 25 Fund has showcased extra-ordinary performance in the last five years. If you had invested Rs 10,000 in AF25F five years back on December 31, 2014 it would have appreciated at a compounded annualised growth rate of 14.2% to Rs 19,381 (as calculated on December 31, 2019). In comparison, simultaneous investment of Rs 10,000 in its benchmark Nifty 50 – TRI would now be worth Rs 15,661 (a CAGR of 9.4%). The fund has generated remarkable lead over the benchmark in the last five years, rewarding investors with higher returns.
Graph 2: Axis Focused 25 Fund's year-on-year performance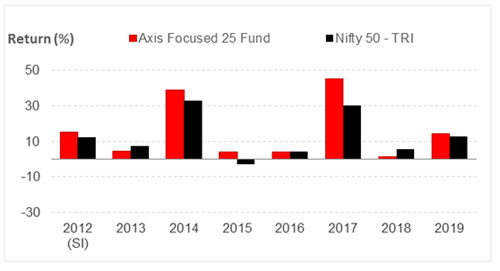 *YTD as on December 24, 2019
(Source: ACE MF)
Launched in June 2012, AF25F does not have a long term track record. However, it has managed to catch investor's attention in this short time span due to impressive returns across market cycles. The year-on-year performance comparison of the fund relative to its benchmark Nifty 50 – TRI shows that the fund outperformed the index in most of the calendar years. Majority of the outperformance was generated during the bull phases. While the fund delivered returns nearly in line with the benchmark in CY 2016, it trailed the index in CY 2013 and CY 2018. In CY 2018 the fund lagged the benchmark as the markets turned volatile. However, it managed to significantly improve its performance in CY 2019 and even outpaced the benchmark.
Table Axis Focused 25 Fund's performance vis-a-vis category peers
Returns are on a rolling basis and in %, calculated using Direct Plan – Growth option. Those depicted over 1-Yr arecompounded annualised.
Data as on December 31, 2019
(Source: ACE MF)
*Please note, this table only represents the best performing funds based solely on past returns and is NOT a recommendation. Mutual Fund investments are subject to market risks. Read all scheme related documents carefully. Past performance is not an indicator for future returns. The percentage returns shown are only for indicative purposes.
AF25F outperformed the benchmark and category average across rolling period, barring 1-year rolling period, where it lagged the index. Over the longer time horizon of 3-year and 5-year rolling returns, the outperformance margin has been in the range of 3-5 percentage points.
The fund stands among the top performers on 2-year to 5-year rolling period. Some of the other top performers during the period are JM Core 11 Fund, Sundaram Select Focus, SBI Focused Equity Fund and IIFL Focused Equity Fund.
In terms of risk-return profile, the fund's volatility has been higher than the benchmark and category average. Regardless, its risk-adjusted return is among the best in the category.
Investment strategy of Axis Focused 25 Fund
Categorised as Focused fund, AF25F is mandated to invest minimum 65% of its assets in equity and equity related instruments of up to 30 companies. Accordingly, the fund invests in a concentrated portfolio of up to 25 companies while maintaining high active allocation relative to the benchmark. The stocks are selected following a bottom-up stock selection approach to bet on high conviction stocks.
The fund analyses the appreciation potential of individual stocks from a fundamental prospective employing a `fair value' based research process. It aims to carefully select stocks to include companies having a robust business models and enjoying sustainable competitive advantages as compared to their competitors, and hold them for long term.
The fund has the flexibility to invest up to 35% of its assets in debt and money market instruments.
Graph 3: Portfolio allocation and market capitalisation trend in Axis Focused 25 Fund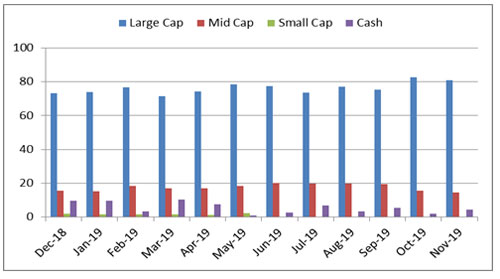 Holding (in %) as on November 30, 2019
(Source: ACE MF)
AF25F has the flexibility to invest across market capitalisation, though it maintains a large cap bias. The fund invests around 70-80% of its assets in equities of large cap companies. It also has significant exposure of 15-20% in mid caps. In the last one year, though the fund initially had marginal exposure of 1-2% in small caps, it has completed avoided investing in the segment in the last few months. The fund holds up to 10% of its assets in cash and equivalents.
Graph 4: Top portfolio holdings in Axis Focused 25 Fund
Holding (in %) as on November 30, 2019
(Source: ACE MF)
AF25F invests in a portfolio of 25 high conviction stocks while remaining diversified. The top 10 stocks constitute 63.7% of its holding which has Bajaj Finance at the top of the list having an allocation of 8.5%. Bajaj Finserv, Reliance Industries and Kotak Mahindra Bank closely follow with an allocation in the range of 7-8%. Rest of the stocks in the top 10 holding have allocation in the range of 4-7%.
The fund is heavily exposed to banking and finance sector which together forms 43.5% of the sector wise holding. Infotech is the other major sector where the fund has invested 11.8% of its assets, followed by Engineering and Petroleum Products with allocation of around 7% each. The other prominent sectors in the portfolio are Retail, Consumption, Chemicals and Auto.
Top contributors
Among the stocks in the portfolio, Bajaj finance contributed the most to the fund's gains in the last one year with a weighted return of 4.4%. The fund also gained from its holdings in Bajaj Finserv, Kotak Mahindra Bank, HDFC Bank, Info Edge (India), Avenue Supermarts and HDFC.
On the other hand stocks like Cummins India, Maruti Suzuki India and Wabco India eroded some of its gains.
Suitability of Axis Focused 25 Fund
AF25F has rewarded investors well in the past with superior risk-adjusted returns and has the potential to continue its winning performance in the future as well. While focused funds take utmost care to focus on high conviction ideas having high growth potential, if the fund manager's bets do not pay off as expected, investors may incur heavy losses due to high concentration of the portfolio. Therefore, Focused funds are a high-risk high-return investment. This makes AF25F suitable for aggressive investors with a long investment horizon.
Note: This write up is for information purpose and does not constitute any kind of investment advice or a recommendation to Buy / Hold / Sell a fund. Returns mentioned herein are in no way a guarantee or promise of future returns. As an investor, you need to pick the right fund to meet your financial goals. If you are not sure about your risk appetite, do consult your investment consultant/advisor. Mutual Fund Investments are subject to market risks, read all scheme related documents carefully.
This article first appeared on PersonalFN here